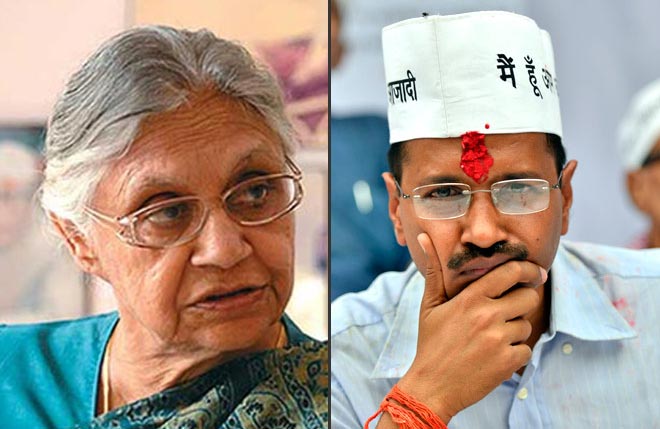 'People have rejected his governance model': Sheila Dikshit Slams Kejriwal on Muslim vote Remark!
New Delhi: Voting for the 2019 Lok Sabha election final phase will be over on May 19. Within hours, the action will shift to television screens with big numbers, predictions and analysis.
Delhi Chief Minister Arvind Kejriwal irked a controversy when he said, "Muslim votes shifted to Congress in Delhi at last moment", while speaking to a leading News Paper.
Talking about the outcome of the Lok Sabha polls, Kejriwal said, "If they do not tamper with the EVMs, Modi ji should not come back.but I do not know whether they would do it or not.
Delhi Chief Minister and AAP chief Arvind Kejriwalhas further said that the Muslim vote "shifted" to the Congress at the last minute during the Lok Sabha polls in the capital.
Kejriwal told The Indian Express: "Let us see what happens. Actually, chunaav ke 48 ghante pehle tak saaton seat lag raha tha Aam Aadmi Party ko aayengi. Last moment pe complete Muslim vote got shifted to Congress. Last night, the night before election. We are trying to figure out ki hua kya hai. Poora ka poora Muslim vote jo hai woh Congress ko shift ho gaya. They are 12-13 per cent. (Until 48 hours before polling, it seemed like all seven seats will come to AAP. But at the last moment, the complete Muslim vote got shifted to Congress. We are trying to figure out what happened)."
Reacting to Kejriwal Claims, DPCC President, Sheila Dikshit on Delhi CM's reported remark 'Muslim votes shifted to Congress in Delhi at last moment' said, Don't know what is he trying to say. Everyone has a right to vote whichever party he/she wants to vote. People of Delhi did not understand nor liked his governance model."