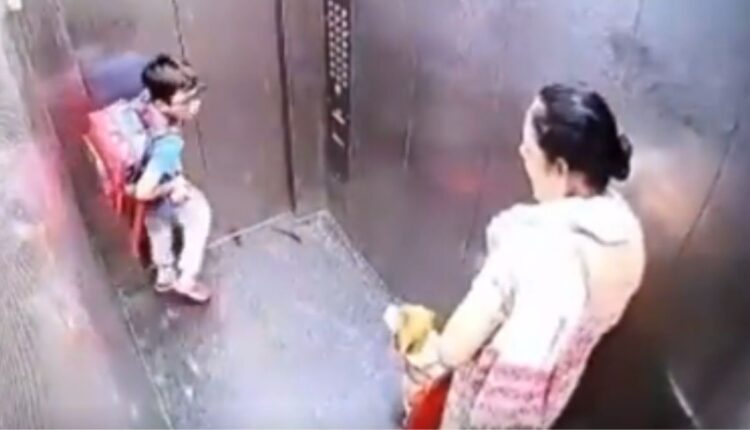 Pet dog allegedly attacks child in lift, Owner apathy infuriates citizens
Ten News Network
Ghaziabad, 7th September, 2022: Police claimed on Tuesday that an 8-year-old child was allegedly attacked by a pet dog inside the elevator of a Ghaziabad high-rise, and that they had booked the dog's owner based on a complaint filed by the boy's parents.

CCTV footage of the incident, which went viral on social media, shows the dog attacking the child while his owner watches on. At 6 pm on September 5, the incident occurred in Ghaziabad's Rajnagar Extension based Charms County Society.
A woman and her pet dog were seen entering the lift in the video. The dog jumps and bites the boy after a few seconds. Surprisingly, the woman does not even attempt to check on the youngster while he groans in pain.
According to police, the boy's parents have lodged a complaint against the woman, and they have recorded a first information report (FIR) at the Nandgram police station under Section 289 (negligent behaviour with respect to animal) of the Indian Penal Code.
While the complainant claims the dog bit the youngster, authorities said there were no severe bites. "We have filed a FIR in this case, and an investigation is underway." The boy's parents approached police late Monday night, and a FIR was filed. The woman and her dog will be identified using CCTV footage from inside the lift, and appropriate action will be taken," said Nipun Agarwal, superintendent of police (city 1).
Boy's mother stated in her complaint that her son was returning home from tuition around 6 p.m. on Monday when the event occurred.
Commenting on the incident, NOFAA President Rajiva Singh issued some guidelines to residents, stating that "the recent incident of a pet attacking a child in a lift is highly unsettling, made all the more disturbing by the callous pet owner."
"Such pet owners bring such disrepute to pet owners who sincerely believe in mutual coexistence in a community, as well as to those who truly care about fellow citizens," he added.
Talking about the guidelines that may help avoid such incidents, he said, "If the pet is violent, put a muzzel when it is in a common area of a society. Train the pet. Make them learn how to interact with the fellow residents. If such an unfortunate incidence occurs, the pet owner should accept full responsibility for the victim's post-incident care."