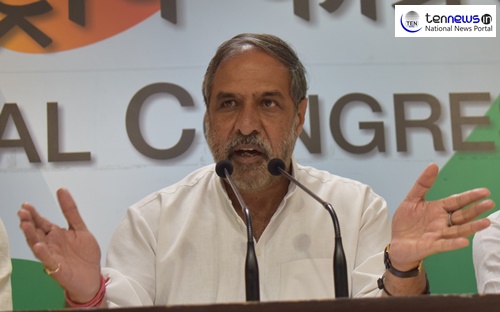 New Delhi: Congress made an all out attack on Prime Minister Narendra Modi but this times for this his factual mistakes and advised him to correct the facts before speaking in a public platform.
"PM should come out from his campaign mode and stop spreading falsehood, it doesn't suite him as a prime minister," said former union minister and veteran Congress leader Anand Sharma.   
Referring to his somes speeches, he said, "Since last four years, Prime Minister have addressed on countless public platform but he made childish mistakes while addressing. Even, several times he made this mistake in foreign countries."
In his recent interview to a news portal PM Modi said that RSS workers have played important role during 1975 emergency, replying to his claim, Congress leader said, "On November 1975, RSS chief Balasaheb Deoras had wrote a letter to Indra Gandhi stating that RSS workers have not taken any part in JP Movement, so, don't punish us and lift ban from us. We will work for the government."
"Now, PM Modi should say, either the letter written by the then RSS chief was wrong or he is manipulating the history," asked Congress leader.  
Replying to PM Modi's allegation made during the interview that Opposition criticise him and don't want to see him as a PM. Sharma said, "The PM, who consider Opposition as an enemy have no right to be in the such post. He has a problem with the beauty of secularism. Opposition is only doing its work, there is no personal fight."