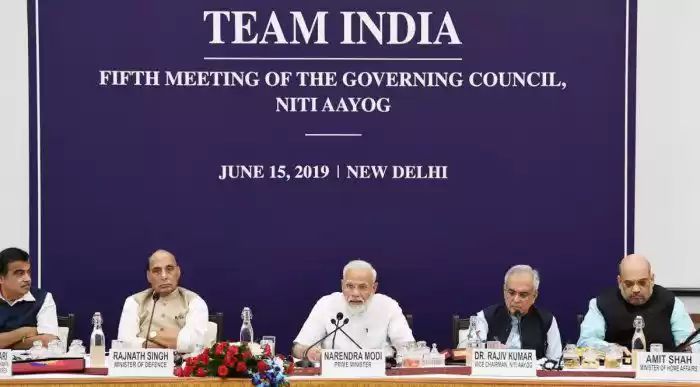 New Delhi, (15/6/2019): The fifth meeting of the Governing Council of the 'Niti Aayog' was held today in the Rashtrapati Bhawan. The meeting was started under the chairmanship of Prime Minister Narendra Modi.
PM Modi said in the meeting that our challenge is to make India a trillion dollar economy by 2024, but it can certainly be achieved by joint efforts of the states. He said, "The challenge to make India a trillion dollar economy by 2024, can be achieved if states and centre put efforts together."
In the meeting, the central government has said that keeping animal husbandry, horticulture, fruits and vegetables in mind the income for the farmers should be doubled by 2022. It has been said in the meeting that the benefits of other schemes like PM-Kisan Sammananidhi reach the beneficiaries over time.
During the meeting, PM emphasized on expanding exports in the states so that income and employment could be encouraged. Apart from this, PM Modi said that the newly formed Jal Shakti ministry will help in adopting a coordinated approach to water management. States should also coordinate their various efforts in the field of water conservation and management.
Naxalism, drought situation, agriculture sector crisis, water conservation and preparations for the kharif crop were discussed. Rain-water harvesting and structural reforms in the agriculture sector have also been included in the meeting's agenda.
This was the first meeting of the governing council after the government was formed again in the center under the leadership of Narendra Modi. The meeting was attended by all chief ministers except Mamata Banerjee (WB) and K Chandrashekhar Rao (Telangana).