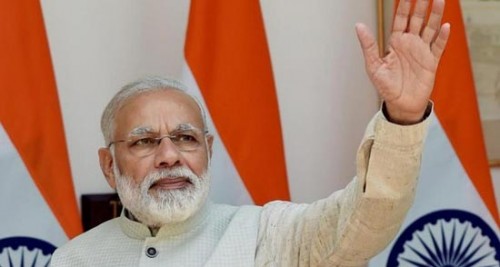 PM Narendra Modi awarded prestigious Seoul Peace Prize
Rohan Sachdeva
Seoul, South Korea: Prime Minister Narendra Modi has been awarded the prestigious Seoul Peace Prize by the Seoul Peace Prize Cultural Foundation. The award recognizes the success of Modinomics in furthering high economic growth in the country, and hails his efforts in increasing international economic cooperation through policies like the Act East Policy.
PM Modi was credited for 'Modinomics' that the award committee said "reduced social and economic disparity between the rich and the poor in the country". The committee further praised his efforts in reducing corruption through measures like demonetisation. Among the other things he was credited with were the promotion of a transparent and accountable government and bureaucracy, and his contribution towards the stability of the Asia-Pacific region through diplomacy and economic cooperation.
The Seoul Peace Prize was established in 1990 as a biennial recognition with monetary award to commemorate the success of the 24th Summer Olympic Games held in Seoul, Korea, an event in which 160 nations from across the world took part, creating harmony and friendship. The Seoul Peace Prize was established to reflect the wishes of the Korean people and to crystallize their desire for everlasting peace on earth. The nominating group consists of 300 Korean nationals, and 800 internationals. The awardee receives a diploma, a plaque and honorarium of US$200,000.
The Prime Minister accepted the Prize and conveyed his gratitude at being named the 'perfect candidate' of such a prestigious award.
The news will come as salt to the wounds of PM Modi's critics, who ironically point to demonetisation as the biggest cause for his criticism, the very same reason he has been bestowed the Seoul Peace Prize. The award will surely serve to improve his approval rating with three major Legislative Elections right around the corner.
Among the other notable figures to have been awarded the Seoul Peace Prize are former UN Gen-Sec Ban Ki Moon and German Chancellor Angela Merkel.