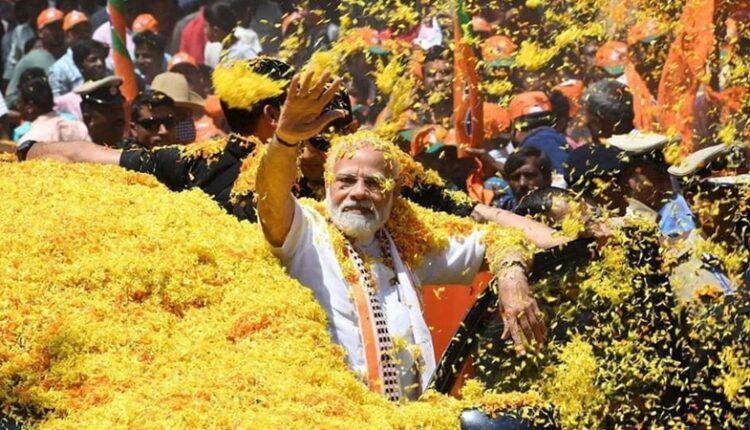 PM Modi's Roadshow Draws Massive Crowds on Bengaluru-Mysuru Highway
Ten News Network

New Delhi (India), March 13, 2023: Prime Minister Narendra Modi received a warm welcome from thousands of Bharatiya Janata Party (BJP) supporters and workers as he embarked on a roadshow along the 1.8-kilometer Bengaluru-Mysuru national highway in the city on Sunday.
The roadshow, which lasted 20 minutes, commenced at the inspection bungalow and culminated at Nanda Talkies. The Prime Minister was greeted with fervent chants of "Modi…Modi" as he waved enthusiastically at the cheering crowd throughout the roadshow. Flower petals were also showered on his motorcade at several locations along the route.
After completing the roadshow, Modi arrived at the helipad at PES College Stadium in Mandya, following which he inaugurated the Bengaluru-Mysuru expressway by walking on a red carpet for 50 meters. Around 50 folk troupes performed on the other side of the highway, to which the Prime Minister waved in return. He later participated in a public program organized at Gejjalagere, near Maddur Taluk.
The police had ramped up security measures across the city in preparation for Modi's roadshow. Barricades were erected on either side of the road, leading to inconvenience for students appearing for the entrance exam at Municipal School. This resulted in a confrontation between the parents and the police, with the former demanding the removal of the barricades.
The issue was later resolved with an alternative arrangement for the students to enter the examination center via the district stadium.
Rail passengers were also impacted, as they were not allowed on the highway during the roadshow. However, the route was cleared after the event concluded. Despite the inconveniences caused, the roadshow was hailed as a successful and significant event for BJP supporters and workers alike.