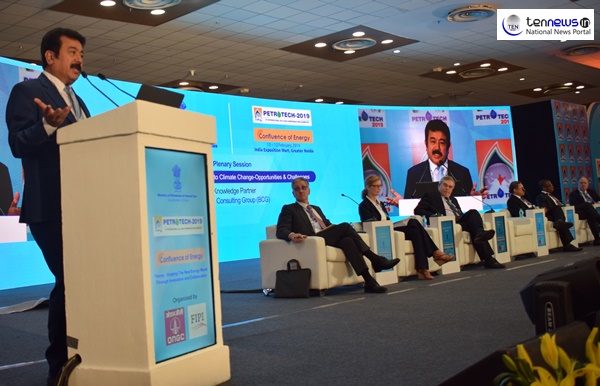 PM Narendra Modi inaugurates 13th International Oil and Gas Conference Petrotech 2019 in Greater Noida!
PRERIT CHAUHAN/ JITENDER PAL- TEN NEWS
New Delhi:(11/02/2019) Petrotech -2019, the 13th International Oil & Gas Conference & Exhibition which is considered to be India's flagship hydrocarbon conference.
is being organised under the aegis of the Ministry of Petroleum & Natural Gas, Government of India.

Petrotech is a biennial platform for national and international experts in oil and gas industry to exchange views and share knowledge, expertise, and experiences, exploring areas of growth in the energy value chain.The three-day mega event, from 10 to 12 February 2019, will showcase the recent market and investor friendly developments in India's oil and gas sector. Over 95 Energy Ministers from partner countries and 7000 delegates from around 70 countries are expected to be part of PETROTECH -2019.
On Monday, Prime Minister Narendra Modi Inaugurated the PETROTECH – 2019 at India Expo Centre, Greater Noida. PM Modi while addressing the inaugural session of the conference said,
"India recently became the 6th largest economy in the world. According to a recent report, by 2030 India would be the 2nd largest world economy. We are also the 3rd largest energy consumer in the world with the demand growing at more than 5% annually."
He further said, "India is the fastest growing large economy in the world. Leading agencies such as IMA & World Bank project the same trend to continue in coming yrs. In an uncertain global economic environment, India has shown tremendous reasons as an anchor of world economy.PM Narendra Modi at Petrotech 2019: India remains an attractive market for energy companies with energy demand expected to be more than double by 2040."
Petroleum Minister Dharmendra Pradhan addressing the inauguration of Petrotech 2019, said,
"Energy occupies a very important place in Prime Minister's vision for India. India has seen unprecedented reforms in the last five years in the energy sector. He said that these reforms have accelerated our work in delivering energy justice to the poorest of the poor by adopting the four pillars visualized by Prime Minister Modi- Energy access, Energy efficiency, Energy sustainability and Energy security as our guiding principles."
Pradhan further said, "world is seeing a dramatic shift in the sources of energy supply and consumption. There has been a big shift in energy consumption from OECD countries to developing Asia. Electric vehicles will also change the consumption patterns. US has become the world's largest oil and gas producer after the shale revolution and is challenging the traditional oil dynamics. Affordable Solar PV is taking increasing share in the supply mix, helping to reduce carbon footprints."
The Inaugural addresses were followed by Plenary Session on 'Energy Industry's response to climate change – Oppurtunities and challenges'. The Discussion saw the Participation of the Dignataries like, Utpal Bora, SSV Ramakumar, Marcus Richards, Uwem Ukpong, Sue Allchurch, Jonathan Alkind, Nick Norton.
While Speaking to Ten News on the Occasion about the Petrotech-2019, Arunabh Deb, Genral Manager, Brand & PR, Bharat Petroleum Corporation Limited said,
"It's a great platform as it is attended by top leaders from fuel-rich nations across the globe. It a honour to have such brilliant minds with us at Petrotech 2019."
Atul Garg, GM-Head of Institute, ONGC speaking to Ten News said, "As PM Modis said India has taken a lead in addressing this issue of energy access, in our success. world is entering an era of greater energy availability which is a good sign."