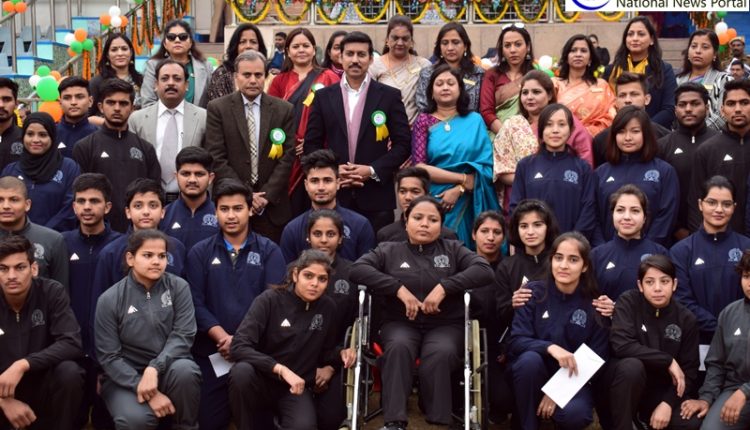 New Delhi (04/01/2019) : Today, Police Families Welfare Society (PFWS) organised an award ceremony for children of age group of 15 to 22 who performed really well in different sports.
Retd. Col Rajyavardhan Rathore was the guest for the occasion. He praised the efforts of Delhi Police.
Suchana Patnaik, President, PFWS while speaking about the journey of PFWS said,
"As you all know Police Families Welfare Society came into existence in 1972. It has since been engaged in providing skills, knowledge and empowerment to the family members of Delhi Police personnel. But our journey of rediscovery began only last year in 2016 when a lot of new initiatives were taken up and given shape for the welfare of our police families in a more structured and organized manner. I am happy to say that many firsts were created and many success stories written."
"It is said that every drop in the ocean counts and we are trying to do our bit by adding a drop.
In the words of American President Roosevelt. 'The future belongs to those who believe in the beauty of their dreams.' We have tried to dream big and I am confident that with your whole hearted support and blessings we are going to achieve it. I would like to take this opportunity to congratulate the finalists of phase 1 and wish them good luck for the next phase. Let us all come together to provide wings to their dreams and help them to chart their own path in creating history for our country." she added.
Amulya Patnaik speaking about the sports meet organised by PFWS said,
"It gives me great pleasure today to personally thank Sports Minister to be present here for such a good cause. When I asked our Sports Minister to witness the event as a chief guest, he didn't think and gladly said yes and he praised the efforts by Delhi Police as well. I congratulate all the awardees and hope for their bright future in Sports."
Sports Minister Rajyavardhan Rathore while addressing media after an end to the award ceremony said,
"In 2014 when I first went for the elections I asked my wife to join me and she agreed. Reason is when we step up to do something positive and if we are supported by our people, we surely wins."
We all know how Delhi Police works and how much work pressure they face. I salute Amul Patnaik and all other officers because they face the maximum pressure whether in field or in office", he added.
While praising the awardees and other participants, Rajyavardhan Rathore said,
"The future you have decided, I feel proud of all of you for that. Prime Minister said "Jo Khelega Vo Khelega". today, you started playing and tomorrow whether you work in a office or wherever but you will always be a player."