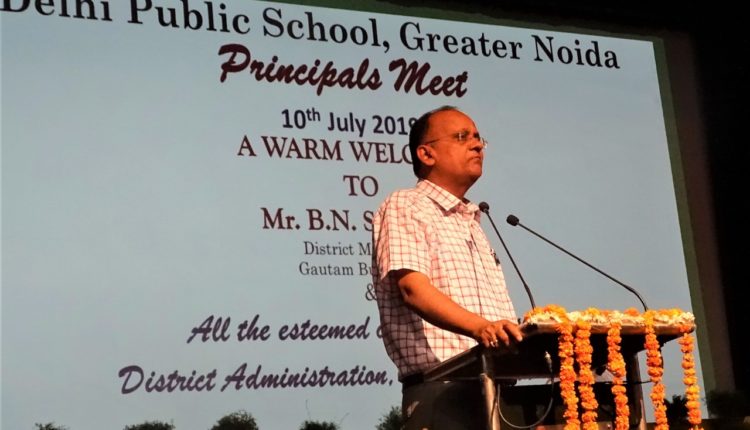 Principals' meet held at Delhi Public School, Greater Noida
Ten News
In order to discuss the role of District Administration in the new Education Policy and the safety and security guidelines and to seek co-operation of the Principals of the schools of Gautam Budh Nagar, an emergent meeting was organized on July 10, 2019 under the direction of the District Inspector of Schools, Dr. Neeraj Kumar Pandey who has recently joined as the DIOS, Gautam Budh Nagar. 
Dr. Neeraj Pandey was the convenor of the Principals Meet which was attended by more than 100 Principals and Managers of various schools of Noida and Greater Noida. Shri B.N.Singh, IAS, District Magistrate of Gautam Budh Nagar chaired the session.
The Session was attended by the Chief Medical Officer, Dr. Anurag Bhargava, Chief Fire Officer Mr. Arun Kumar Singh and ARTO, Mr. Himesh Tiwari. All of them expressed their views and interacted with the Principals of the schools.
Dr. Pandey, DIOS, gave a brief summary of CBSE rules and guidelines and invited the Principals to express their concerns pertaining to the students in the spirit of administration and school partnership.
The DM exhorted the Principals to take lead in shaping the future of the future citizens of the country. He congratulated the schools for excellent Board results and talked about delicately handling the relationship amongst the stakeholders, teachers and the students.
He emphasized that the rules and regulations are the best way to solve many issues. Concerns can always be addressed and solved but the general environment should not get affected. He talked about the compliance of the affidavit pertaining to the safety and security of the students in the school.
He further added that the bad habits like e-cigarettes, which are a menace, should be controlled by the school administrators. He acknowledged that the schools have a tremendous role to play to help students to imbibe good habits and good values.  Students should be taught to grow up into responsible citizens.
The DM emphasized on water conservation and afforestation. He expressed his concerns over the depleting level of water resources due to the impact of industrialization. Schools must feel responsible to make the students understand the importance of water conservation and doing all to conserve and save water and thus, avoiding the wastage of water. He further stressed upon rain water harvesting which is a must.
The DM also told the schools to encourage more and more of students to get involved with an increasing zeal to grow more and more of plants. He motivated all to join the plantation drive initiated by the Government.