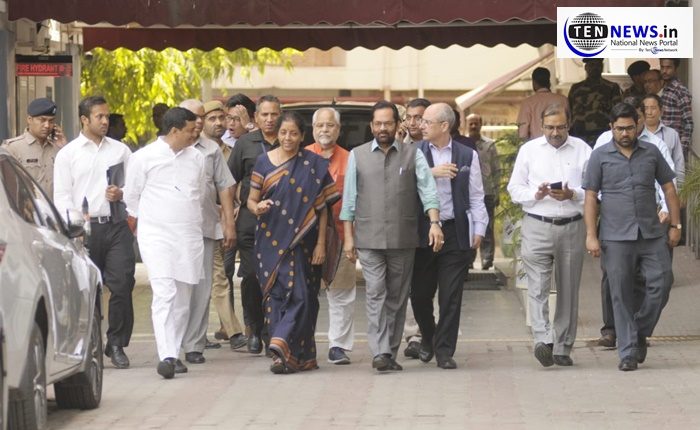 Rafale Deal: "Rahul Gandhi calling PM 'chor' and putting words into the mouth of the Supreme Court", says Nirmala Sitharaman
Vishal Malhotra / Rahul Kumar Jha
New Delhi : Today, BJP launched two-pronged attack on Congress president Rahul Gandhi for his repeated 'chowkidar chor hai' scathing criticism of Prime Minister Narendra Modi and sought intervention of the Election Commission on the matter.



Union ministers Nirmala Sitharaman and Mukhtar Abbas Naqvi said that they had met EC officials over Congress president Rahul Gandhi's comments regarding the Rafale issue.
Defence Minister Nirmala Sitharaman told reporters "We feel let down" that Election Commission chose to look the other way in spite of "our earlier complaints against Rahul Gandhi on the same issue".

A BJP delegation comprising Union Ministers Mukhtar Abbas Naqvi, Sitharaman, Nalin Kohli and Anil Baluni met the poll panel and made a submission on the issue and also about poll-related violence during polling in Cooch Behar in West Bengal.
"We approached the EC today as Congress president Rahul Gandhi is using abusive and strong statements which are totally untrue and calling the honourable Prime Minister and that also repeatedly that he is a chor (thief)," Sitharaman said. She accused that Gandhi has virtually gone to the extent of "putting words in the mouth of the Supreme Court".
In the context of the first phase of the Lok Sabha election held on Thursday, the ministers also alleged that Trinamool Congress (TMC) workers had engaged in "rigging and booth capture" during the voting process in West Bengal.
"We have lodged three clear complaints with the EC, the first of which is the way Congress president Rahul Gandhi has used defamatory language against Prime Minister Narendra Modi and the BJP government. He has been spreading lies repeatedly by calling the prime minister a 'chor' in connection with the Rafale deal issue, despite the Supreme Court's order in the matter," Sitharaman said.