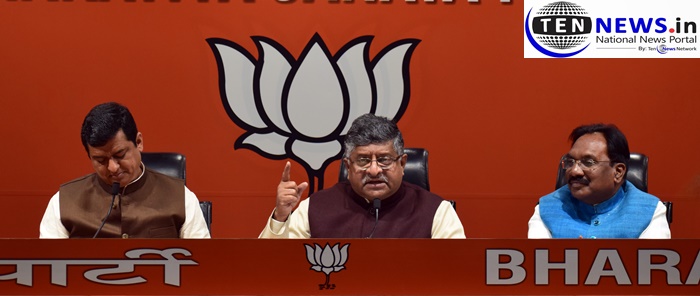 New Delhi : Today, Union minister Ravi Shankar Prasad criticsed Congress party after senior leaders including Kapil Sibal, Digvijaya Singh and P Chidambaram sought clarification from the Narendra Modi government over reports in international media on strike by the Indian Air Force in Pakistan's Balakot.
"Has Digvijaya Singh reduced himself to such a low level that he will call the most heinous terrorist attack on 45 CRPF jawans as an accident? This is their thinking," said Prasad at a press conference at the BJP headquarters in New Delhi.
Prasad, who is also the chief spokesperson of the BJP, said statements made by the Congress leaders are aimed at "lowering the morale" of the forces.

Prasad alleged that Digvijaya Singh, Kapil Sibal and P Chidambaram, who targeted the government over IAF strike on Monday, were issuing statements "as part of a design" that has "approval of Congress president Rahul Gandhi".
Digvijaya Singh, earlier in the day, had said, "some foreign media have raised doubts over the air strike by our air force following Pulwama accident which is putting question mark on the credibility of our Government of India."
Prasad also attacked West Bengal Chief Minister and Trinamool Congress leader Mamata Banerjee.
"Mamata ji, you have seen struggle. What is wrong with you?", said Prasad.
A war of word has erupted between Congress and BJP over the Air Strike after various Congress leaders demanded proof of the number of casualty.