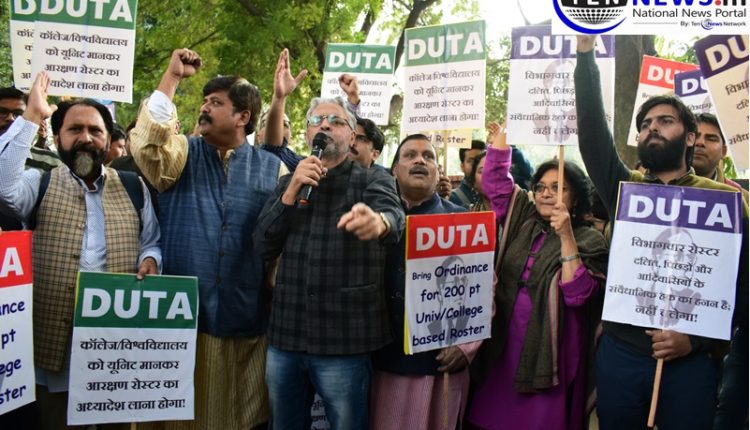 New Delhi : DUTA along with Tribal and Dalit rights organisations called for an all-India bandh today against the Supreme Court order on their eviction from their habitat.



Though the court had put a stay on its order after the petition by the Centre, the tribal groups are of the opinion that it is a temporary relief in the absence of a law and are demanding that the Centre bring in an ordinance to ensure their rights are protected.

People from several Dalit groups also joined the protest rally, especially in view of the Supreme Court's recent dismissal of a review petition on 13-point roster, which will affect the chances of SC, ST, and OBC candidates to take up faculty posts in universities. They demanded an ordinance that will overturn the roster for department-wise recruitment system in universities.

The Supreme Court had last month ordered eviction of the families that have not been able to prove their rights over the land they lived in, and had been tagged as illegal residents by the state governments.
The order was part of an ongoing case, where the petitioners, mostly wildlife activists, wanted illegal forest dwellers out of forest land to reduce man-animal conflict and restore equilibrium. After uproar and Centre's intervention, the top court has put a freeze on its order.
In Delhi, the protesters marched from Mandi House to Parliament Street. Tribals in Gujarat, Rajasthan, West Bengal, Jharkhand, Chhattisgarh, Madhya Pradesh and other states in the Northeast also joined Tuesday's bandh.
According to initial reports, Samajwadi Party (SP) stopped the Ganga Gomti Express, which runs from Prayagraj to Lucknow, in Prayagraj on Tuesday. Several parties have come out in support of Bharat Bandh.