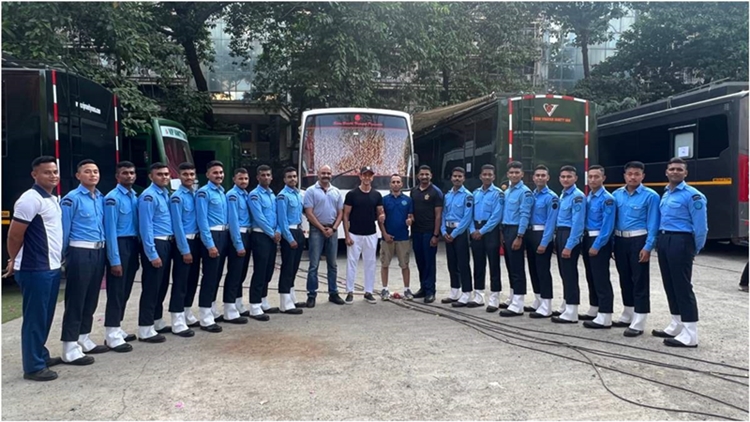 Real blends into reel: Hrithik shoots with IAF cadets for fighter
Ten News Network

Mumbai (India), 27th May 2023: 'Fighter', starring Hrithik Roshan and Deepika Padukone, is one of the most anticipated films. Hrithik and Deepika's first collaboration will be directed by Siddharth Anand.
The 'Fighter' crew is going to great lengths to showcase their film in the most authentic way possible. They shot in real-world locations. The film will also include real-life Indian Air Force members. Hrithik is seen posing with real-life IAF cadets in the most recent photo that was released.
In the photo, Hrithik can be seen with real-life cadets from the Indian Air Force (IAF) in Delhi, who were filming with him and will appear in the film. The cadets are seen wearing their ceremonial IAF uniforms, which they will be wearing in the film.
The 'Fighter' team has been recording high-on emotional moments against the backdrop of the War Memorial, IAF base, at Chandivali Studios Compound in Mumbai for the past three days. The cadets have flown in from the Indian Air Force headquarters in Delhi and the Dundigal Air Force Academy near Hyderabad.
According to reports, war veterans have also been recruited to help on the film behind the scenes. Ramon Chibb, the Executive Producer and co-writer for Fighter, is an Army veteran. Varlin Panwar, an ex-Army officer and IAF consultant, has joined the team as a consultant.
Hrithik will be seen as a fighter jet pilot in India's first aerial action film. 'Fighter' pays homage to the Indian Air Force. It will depict Hrithik's character's path to becoming the best fighter jet pilot in the country. Anil Kapoor, Karan Singh Grover, Sanjeeda Shaikh, and Akshay Oberoi also play major parts in the film. 'Fighter' is scheduled to be released in January 2024.