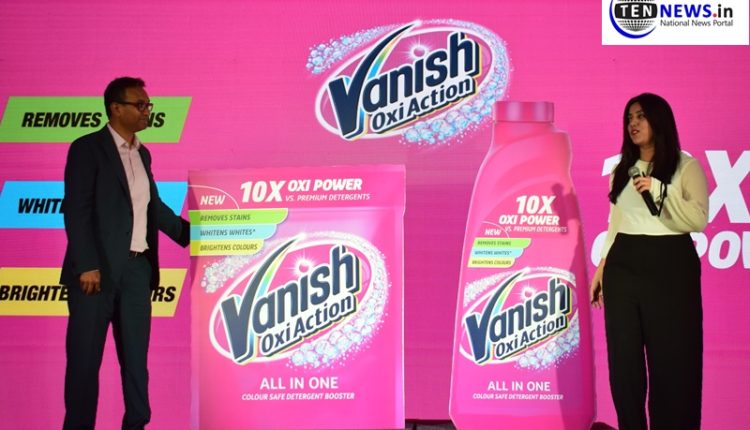 Reckitt Benckiser Launches All-New Vanish as Detergent Booster, Takes Aparshakti Khurana Onboard as Brand Ambassador!
Prerit Chauhan (Photo-Video) Lokesh Goswami Tennews New Delhi :
New Delhi: If it's delicate or expensive clothing, it needs the right treatment for washing, cleaning and even drying. Keeping this in Mind Reckitt Benckiser in Delhi today announced the launch of Vanish in an 'All -New' avatar. Vanish one of the leading stain removal brand has brought in a revolutionary formulation keeping in mind the change in preferences of the Indian consumer.
The All-new Vanish has 10X more Active Oxygen compared to Premium detergents that help in removing . various complex stain types while being safe and gentle on your garments. The New Vanish ad campaign showcases the 'Wow' in Vanish by bringing to life the magic of Vanish through live demos in front of consumers eyes.
The TVC shows, Aparshakti doing live demos bringing the 3 benefits to life stain free, brighter and whiter clothes. The campaign highlights the importance of seeing is believing by having Aparshakti interact with a live audience addressing their laundry issues.
Commenting on the launch, Sukhleen Aneja, Marketing Director, South Asia RB Hygiene Home said, "With the evolution of fast fashion more and more consumers wearing blended or synthetic fabrics which are fragile in nature the need for additives in India is only going to grow. Vanish with Active Oxygen gives amazing stain removal and brightens colors while being gentle on the fabric."
Abhishek Chuckarbutty, Global Category Director, RB Hygiene Home, said "Vanish has been the Global No. 1 brand present across 70 countries, including India. The new Vanish has been tailor-made keeping
in mind the evolving consumer needs. Each scoop of Vanish, unlike detergents, has millions of oxygen bubbles Which remove stains, whiten whites, brightens colours and keeps the colours safe."