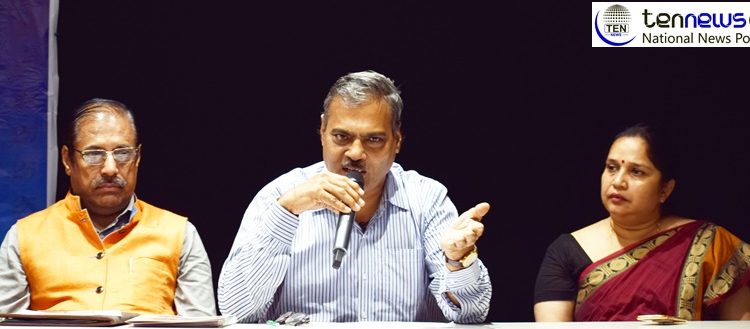 Redefine criteria for MSME categorization demands Laghu Udyog Bharti, list anomalies of new structure
Ashish Kedia (Photo/Video By Lokesh Goswami Ten News
Laghu Udyog Bharti's Past President and member of GST board Om Prakash Mittal today addressed a press conference in Noida which was organized by Laghu Undyog Bharti Unit 1 of Gautam Buddha Nagar.

Raman Chawla, Secretary UP Laghu Udyog Bharti, Manjula Mishra, President GB Nagar Unit 1 and Prem Singh Chauhan, President, GB Nagar Unit 2 were also present at the occasion.
Briefing about the Laghu Udyog Bharti and its scope the organizers said, "The organization is in about 346 district of the country and has touched all the states. It is the single largest organization of MSME".
Coming to the key topic of today's press conference, OP Mittal said, "The criteria of definition of MSME has been now done on turnover basis. The companies with turnover till 5 crore is now Micro, till 75 crore is small and will be classified as Medium with turnover till 250 crore. This categorization has many issues and is not favorable for manufacturing sector".
Talking about the previous norms he said, "Previously the investment basis was the criteria and hence it was easy for the industrialists from manufacturing sector to identify themselves in relevant sections of MSME".
Coming forward to their demands he said, "The Laghu Udyog Bharti pleads that investment should be a criteria and parameters must be revised. MSME sector is one of the biggest employment generating sector of India mostly because of manufacturing sector. We want that for categorization the benchmarks should be 50 lakhs for micro, till 5 crore for small and 5 to 10 for medium. If government wants to increase the bracket of medium they might as well keep it entirely free from micro and small industries".
He further added, " he bill which was tabled just 4 days back in Loksabha must be taken back and government must reconsider the move".
He is also the member of GST council and informed that on 4 August there is going to be another GST council meeting on MSME.