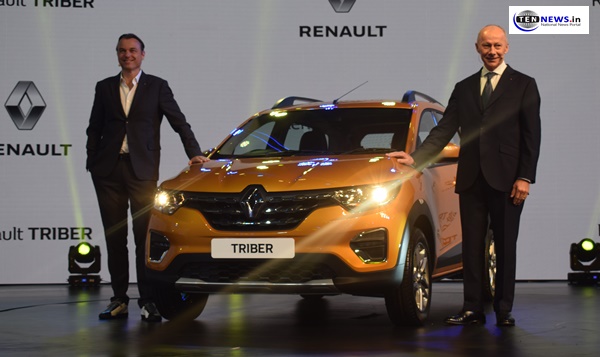 New Delhi, (19/6/2019):* Today, European brand Renault revealed its global product, Renault Triber in India. Renault Triber is the outcome of a joint project between Renault teams in India and France and is a world first vehicle specifically designed for the Indian market.
Renault Triber is a modern , spacious yet compact, ultra modular, fuel efficient vehicle with attractive interiors which boast of many modern and practical features. It offers a total of more than 100 different seat configurations and industry first EASYFIX seats. It has one of the moat spacious cabin under 4m with 625 L boot space and 31 L of interior space.
Renault Triber is fitted with a 1.0 liter petrol engine, offering a great mix of performance and fuel economy, with low total cost of maintenance.
Speaking at the launch, country CEO and MD, Renault India operations Venkatram Mamillapalle said, "Renault Triber will reinvent the game in terms of space and modularity, targeted at a wide set of customers across segments, led by the B segments. Renault Triber offers Renault's contemporary design, modern features, unmatched space, roominess and versatility. More than just a car, Renault Triber is a major breakthrough and will play a key role in our medium term goal of doubling the annual sales volume in India".
Thierry Bolloré CEO of Groupe Renault at the unveiling of the Renault Triber said, "India is a key market for Groupe Renault. We are still young to India, yet our ambitions are high in line with our "Drive the future" strategic plan: we aim at doubling our sales by 2022. For that reason we are bringing Renault Triber, another breakthrough concept, targeted for Indian's core market. Renault Triber was conceived , developed and produced in India, for Indian customers first, before we take it to the world".
As a part of its "Drive the Future" plan Renault aims to increase sales by over 40% with a target of more than 5 million vehicles by 2022 and aims to double the volume to 200,000 units annually over the next three years in India. Renault Triber will be manufactured at the Chennai plant and will be sold at a competitive price in the India market in the second half of 2019.