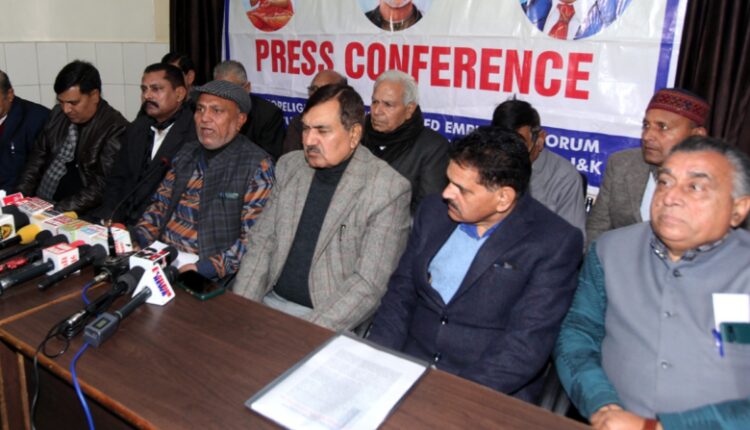 Jammu (India),17th Jan 2023: Socio-religious groups, the retired forum, youth, and women wings of the Joint Action Committee of Reserved Categories (JACRC) have strongly condemned the Jammu and Kashmir UT and the Central Government for their failure to extend constitutional guarantees meant for the welfare of SCs, STs, and OBCs in the region.
The JACRC members spoke to the media, where they expressed their disappointment over the false promises made to the SC/ST/OBCs in the form of votes and then being discarded like used paper napkins.
They further alleged that the BJP-led LG administration has further weakened the position of the communities by diluting the reservation schemes, ignoring the cases of atrocities, and snatching away the government-allotted lands.
The members also expressed their discontentment over the new commissions thrust upon them, such as the BC Commission and J&K Delimitation Commission, and the encouragement of outsiders to start their own industries. They also raised questions on the visit of 300+ MPs from various Parliamentary Committees, which they claim was focused only on Kashmir and Leh and completely ignored the Jammu region.
Prof. G.L. Thapa further spoke about the dilution of reservation in direct recruitments, by starting the roster points afresh, thereby finishing the piled up backlog vacancies of SC/STs. The JACRC members also showed their support for Rahul Gandhi's Bharat Jodo Yatra.
Mohinder Bhagat, Prof. Kali Dass, Sham Bassan, RC Bhasin, B. A. Choudhary, and others were also present during the occasion. They highlighted the issues faced by the reserved categories.