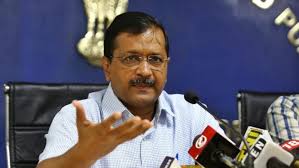 Restaurants to be closed for dinning in; gathering of over 20 banned: Delhi CM
Aman Kumar / Harinder Singh
Amid the increasing number of Coronavirus cases in the country, the capital is taking precautions to contain the virus.
Delhi Chief Minister Arvind Kejriwal has announced that social, cultural and political gatherings with more than 20 people are not allowed across the national capital to contain the spread of the novel coronavirus. Earlier, more than 50 people were not allowed to gather.
In a press conference held today in Delhi, CM assured its citizens of having a large number of beds available in hospitals.
Talking about people avoiding quarantine and being scared of the pandemic, Kejriwal said, "We have started stamping people who have been asked to remain in home quarantine upon their arrival in India. There are instances of such people fleeing home. If such persons don't keep themselves in quarantine, govt will be forced to arrest them and lodge an FIR against them."