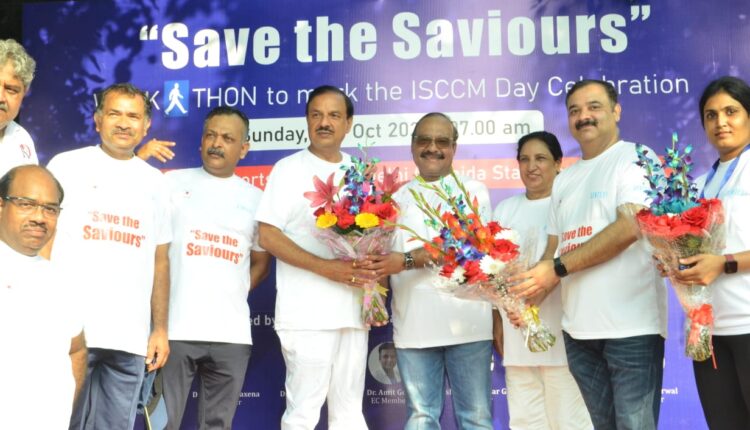 SAVE THE SAVIOURS : A NOVEL INITIATIVE BY INTENSIVE CARE SPECIALISTS
A WALKATHON, "March – On – Foot" was organized by the Doctors involved in Critical Care in various Intensive Care Units across Delhi & Noida, on                    02nd October 2022; this walkathon was organized to commemorate the ISCCM Day (Indian Society Of Critical Care Medicine). This rally was organized under the aegis of SCCM Delhi Noida Chapter. The walkathon was flagged off by                  Dr. Mahesh Sharma, Hon'ble Member of Parliament – Lok Sabha , Gautam Budh Nagar, Former Minister of State (Independent Charge) Tourism & Culture, Minister of State for Civil Aviation,  Environment & Forest, Govt. of India. The Doctors staged a rally that commenced from Chilla Sports Complex , Delhi & culminated at Noida Stadium, Noida. The theme of walkathon was "Save The Saviours" which symbolizes a message "To Hold The Hands that Heal You" & Say "NO" to violence against doctors. Recent times have witnessed unabated violence against doctors especially those involved in Critical Care in ICU's, the Intensive Care Specialists feel that they are the soft targets. "Do Not Colour my Apron Red" & "I do not want to be the next Victim", were some of the slogans to create awareness amongst the public to bring assault on doctors to a stand still. The Intensive Care Unit Specialists feel that despite the law & Constitution against violence on Doctors, they are deprived of their professional rights. While we save the Tigers, we forget to "Save The Saviours", who are risking their own life to save the life of a common man. As per available data around 1600 Doctors lost their life in the line of their duty over the 2 years when the pandemic ravaged India. Despite this nobility in their profession , they have to commonly face the wreath of the public – Commented Dr. Anil Gurnani, Chairman, Dr. Ashutosh Bhardwaj, Secretary, Dr. Prashant Saxena, Treasurer, office bearers of SCCM Delhi Noida.
The walkathon was attended by around 343 Doctors and concluded peacefully on a day which hallmarks the epitome of ''Non-Violence''.