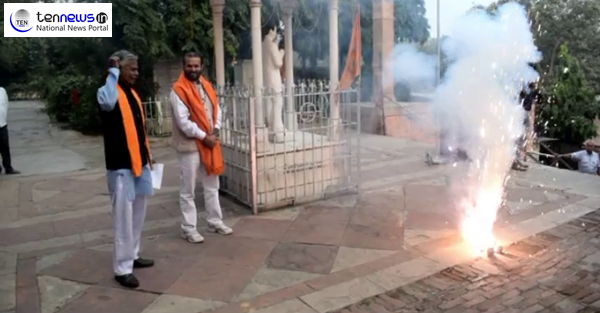 New Delhi: Diwali celebrations this year will come with certain caveats. Poor air quality across the country prompted the Supreme Court to come up with immediate measures to curb rising air pollution.
From partially banning fireworks to setting the time limit on bursting of crackers, the court has issued guidelines on almost every aspect of the festival.
On Monday,Akhil Bharat Hindu MahaSabha leaders burst crackers at their office, while chanting slogans of 'Diwali Manegi Pehle Jaisi, Supreme Court Teri Aisi ki Taisi'.
Speaking to Ten News, Munna Kumar Sharma, Akhil Bharat Hindu MahaSabha, National General Secretary said,
"Adults won't burst crackers, 95% are kids, school going kids are the ones who burst crackers. Are you going to unleash law against them? Is this practically possible? Are they going to station a police personnel at each house or are they going to deploy a police team at each and every street? What are they going to do?"
" These celebrations should not be spoiled. Such bans are deliberately targeted against Hindu festivals," added Sharma.