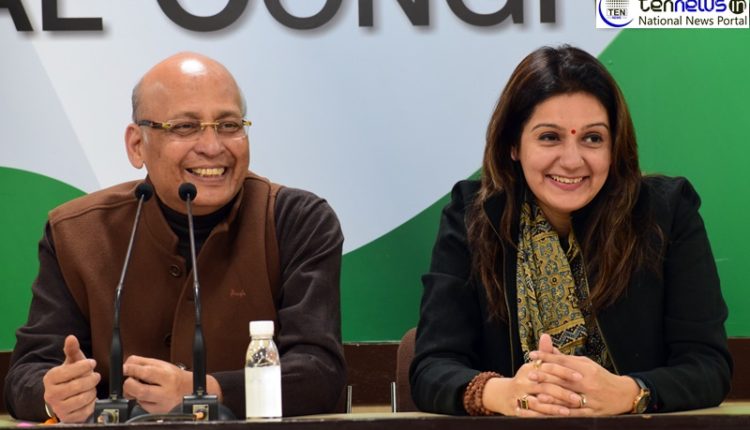 Scared of the Rafale Truth, Modi Govt shamelessly fires bullets from the shoulders of CVC, says Abhishek Manu Singhvi
Vishal Malhotra (Photo/Video) By Lokesh Goswami Ten News Delhi :
New Delhi (11/01/2019) : "The Narendra Modi Government is, in a cowardly fashion, taking refuge and firing bullets from the shoulders of the CVC to completely damage and undermine the independence of the premier investigation agency the CBI", said Abhishek Manu Singhvi at a conference held today at All India Congress Committee.

"It is extremely alarming, shocking and deplorable that the CVC as an institution is willingly allowed itself to be subordinated in this fashion.
"The Indian National Congress strongly condemns this tyranny and absolutism whereby credibility of institutions is being bulldozed and institutions like the CVC are being made to surrender in front of a desperate Government, which will go to any extent to prevent independent CBI functioning. We are seeing the beginning of the end of the 'One Man, One Rule Era", Abhishek Singhvi further added.
A man who can't take criticism or defeat used frivolous rounds to prove his point, misuse his power, distort the findings of CVC and misled the nation
CBI Director should have been granted 'Natural Justice'.
The principle of Natural Justice demands that the High Powered Committee should have given a hearing to the reinstated CBI Director, Shri Alok Verma, provide him a hearing and then ftke decision.
Instead, the Committee removed Shri Alok Verma from the post of CBI Director, without even listening to his side of the story. This was done, even as Leader of Opposition, Mallikarjuna Kharge pleaded for the same.