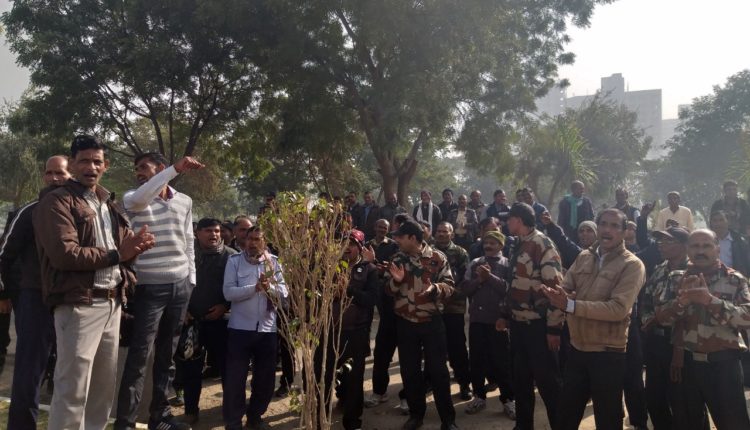 Security Guards protested in front of GNIDA office after being terminated from their job
Saurabh kumar
Greater Noida (1/1/2018) : This New Year comes with good news for many of us but it went unlucky for some people. As the city got new bus service gift on the first day of this year, but on the same day around 500 people in the same city lost their source of livelihood.
As per the information in a decision taken by Narendra Bhooshan CEO Greater Noida Authority around 500 security guards providing their services in various sectors under RWA's, different government buildings were terminated from their jobs. And in place of them ex service men were appointed. As the serving guards got the information of this decision through a notice issued by authority.
After this information, all the guards gathered at the gate of Greater Noida Authority and raised slogan against authority and CEO.
Guards said that "this is totally a dictatorship kind of decision. Not a single notice regarding this decision was earlier served to them. And now the authority has abruptly taken this decision. We are working here from past 10 to 15 years. We have families with us, what will we do if we don't have this job. Ex servicemen were at least getting pension, we need this job more than them. So, we are demanding from authority to take this decision back.