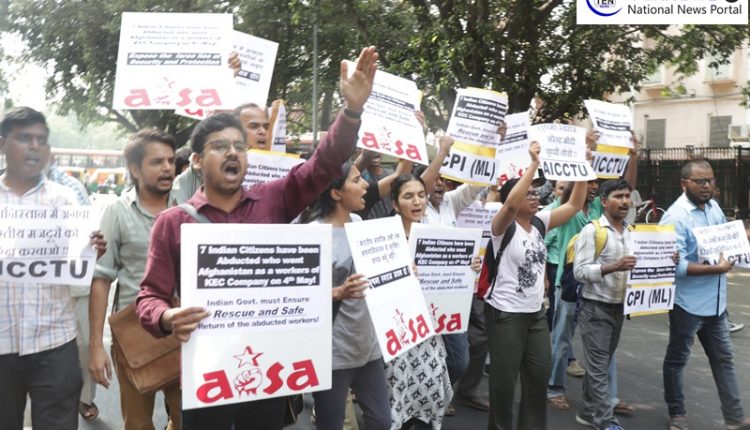 New Delhi: Jolted with the carelessness of Ministry of External Affairs (MEA) in abdication of seven Indians in Afghanistan, family members of the abducted labours and student organizations held a protest near MEA office (Udhyog Bhawan) today.
They raised slogans against the foreign minister, Sushma Swaraj and demanded action.
A news surfaced on May 6, 2018 that seven Indian nationals working for a power company in the country's northern Baghlan province were abducted, allegedly by Taliban gunmen.
Then the foreign ministry in New Delhi said it was in touch with Afghan authorities and was ascertaining details of the incident, however, even after a month neither any action has been taken nor any information has been given to the families. The abducted labours are from Bihar, Jharkhand and Kerala.
The abduction took place, when India and China announced that they will develop a project jointly in Afghanistan, is a reminder of the vulnerability of Indian projects that have been targeted by Taliban and other extremist militia, often on the instructions of the Pakistani army and ISI.
Speaking to Ten News, former MLA from Jharkhand, Vinod Singh and close to the abducted labours said, "Today, we are protesting because of apathy of MEA. Even after a month, there is no trace of the labours and their family members are running pillar to post to seek information, however, they failed, not from the company they worked."
Till then, MEA Sushma Swaraj only twitted over the incident but no action has been taken. We are also concerned about their heath that they are alive or killed."
A kin of the labour, Himlal Mehto said, "On May 6, one of their colleague informed that seven people were abducted by some gunmen and we are in deep fear. The abducted person in my brother-in-law and my sister and her children is running pillar to post to get any word from the officials."