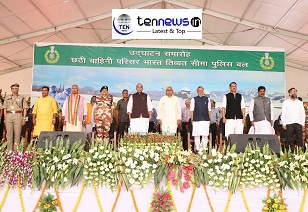 Sh. Rajnath Singh, Home Minister and Sh. Nitish Kumar, Chief Minister (Bihar) inaugurates the 6th Bn ITBP Headquarter, Jalalpur (Chhapra), Bihar
22 April 2018 Chhapra, Bihar: Newly built 6th Battalion ITBP Headquarter of Jalalpur in Bihar has been inaugurated by Sh. Rajnath Singh, Home Minister and Sh. Nitish Kumar, Chief Minister, Bihar today. Sh. Sushil Kumar Modi, Dy. Chief Minister, Bihar, Sh Rajiv Pratap Rudy, MP, Sh Janardan Singh Sigriwal, MP, Sh Janak Ram, MP, Sh Om Prakash Yadav, MP and many MLAs and MLCs were present on the occasion.
Sh R K Pachnanda, DG ITBP welcomed the eminent guests and described the efforts being made by Ministry of Home Affairs (MHA) for the modernisation of ITBP and efforts for improving working conditions for the force personnel.
Sh. Rajnath Singh lauded the ITBP for the duties performed by the elite force in the country and abroad and said that the ITBP has been working in the tough conditions of the Himalayan Region. He also said that whenever any challenging task has been assigned to the ITBP, the Himveers have performed it honestly and extraordinarily. The MHA has been continuously monitoring the process of providing modern equipment to the ITBP and government is looking forward for the welfare of families of the jawans and NOKs of the martyrs.  Sh. Singh hoped that with the establishment of newly built battalion in Chhapra will speed up the development process of the area and will be helpful in providing various job opportunities to the local youth.
Sh. Nitish Kumar, Chief Minister of Bihar said that establishing new ITBP Battalion in Chhapra is a new beginning in the development of the area. He promised ITBP for providing best possible support by the state Government. Expressing happiness on establishment of the ITBP Battalion in Chhapra, CM hoped that more local youth would be motivated to join the security forces, specially ITBP. Terming the event historic, Sh. Shushil Kumar Modi, Dy CM said that the newly built campus of the ITBP will be a great resource for the local administration in the times of need.
Sh. Rajnath Singh also awarded 08 personnel of ITBP for bravery. Sh. Rakesh Kumar, Dy. Commandant, Inspector Jitender Kumar, Head Constable Sukhdev Donkari, Contable Mahesh Kumar, and Constable Amit Negi have been awarded for gallant action against Naxals in Rajnandgaon in Chhattisgarh. Head Constable Sujan Singh was awarded for brave fire fight at Indian Consulate in Mazar-E-Sharif, Afghanistan while Head Constable Narendra Kumar and Constable Biman Biswas were awarded for saving life of fellow mountaineer during Mount Dhaulagiri Expedition of the Force.