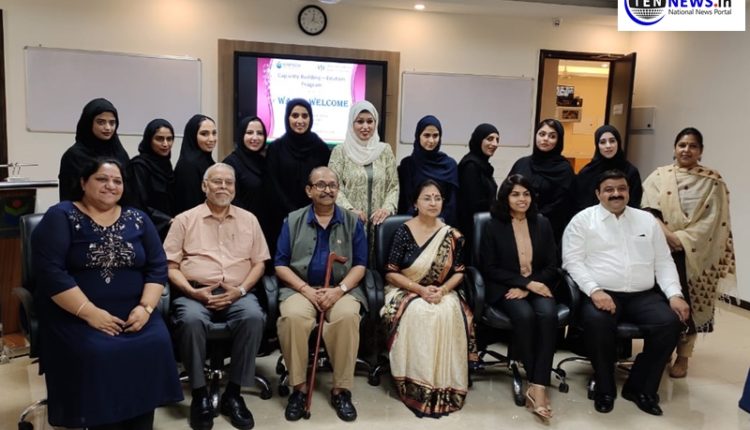 Sharjah Electricity & Water Authority Managers residential training program concludes at BIMTECH's leadership centre
Saurabh Kumar / Baidyanath Halder
Greater Noida (28/07/2019) : Today a week-long residential training program on "Capacity Building – Edutain Program" for Managers of Sharjah Electricity & Water Authority (SEWA) concluded at Vikramshila Leadership Centre, BIMTECH, Greater Noida. At the last day of the event, Meenakshi Davar Director HR at POSOCO graced the program as the Chief Guest.
Sulochana Battu Chief Futurist Officer SEWA and K K Sinha Dean Executive Education also attended the event as esteemed guests.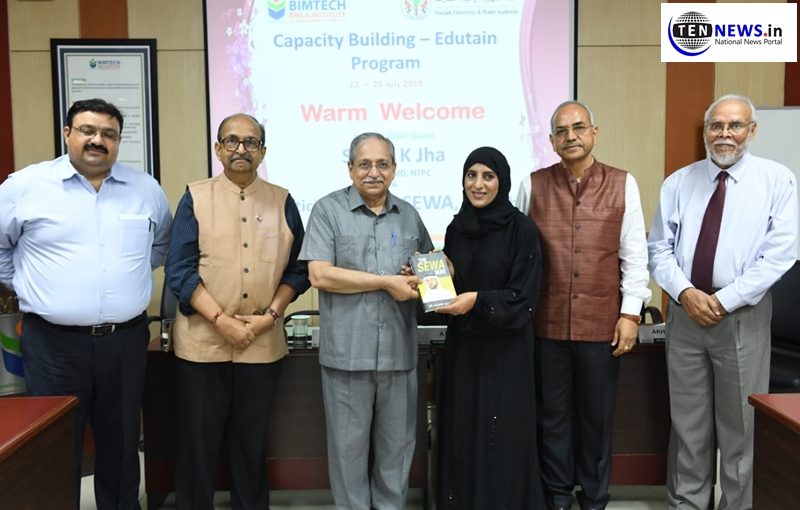 SEWA has collaborated with the Birla House, one of the best-renowned organizations in India and globally. This is an educational initiative at Birla Institute of Management Technology (BIMTECH) collaborated with SEWA, supported by a number of seasoned faculty members that have the corporate experience, educational knowledge, and research expertise like K K Sinha, J Shettigar, Akhil Pandey, Rajeev Sharma, Sangeeta Shukla and experts from Industry like R V Shahi, A K Jha, P Dwarakanath, S Y Siddiqui to train employees on globally recognized best practices.
A total of eleven female participants joined the Training program which has been designed by the Centre for Management Development & Consultancy, BIMTECH. It had an amalgamation of learning and entertainment. Topics like Change & Transformation, Executive Leadership, Economic Environment & Governance, Strategic Communication, Neo-Humility & Leadership and Emotional Intelligence.
Participants were given an Indian Cultural Immersion through Bharatnatyam by Padamshree Geeta Chandran, visits to Neemka Village and Pari Chowk Metro Station to see the CSR activities of Digital Literacy and Life Skill undertaken by BIMTECH Foundation apart from giving them a tour to world heritage monuments of Delhi and Agra.
BIMTECH under Leadership of Dr. H Chaturvedi has been able to establish strong industry linkages through its MDPs, Consultancy Projects, and Short-Term Projects with industry, Colloquiums, Round Tables etc. organized with industry and research bodies. BIMTECH has been delivering MDP and consultancy Programs for corporate executives of different levels and has delivered over 150 Management Development Programs & Consultancy during the last three years.
SEWA aspires to be a continuous innovative learning organization. SEWA- A mission to provide world-class learning experience using up-to-date technologies and methodologies in training, development at the highest standards, quality and build a continuous long-lasting partnership with clients and customers.
Professor Rajeev Sharma Program Director and chairperson centre for corporate relations at BIMTECH thanking the delegates said  " We are thankful to Rashid Alleem Chairman at Sharjah Electricity & Water Authority (SEWA for giving BIMTECH 5 days leadership program for their managers . We are hopeful for a long term relation with SEWA A for mutual benefit of both the organization".
H.E. Dr. Rashid Alleem, Chairman, SEWA, who agreed for this program for actualizing his vision of creating a versatile workforce equipped with the ability to execute strategy, serve customers proficiently, and drive agile innovation. SEWA A caters to the need for broader and more integrated employee skill sets, deep functional capabilities coupled with relevant speciality and business management skills to be able to respond quickly to new opportunities.
Interacting with Ten News Sulochana Battu, heading the SEWA Academy said "I am sure my team had learnt a lot here and will implement it when they go to their offices. All the participants were mesmerized as it's their first visit to India and especially in BIMTECH. They were very happy for having such eminent speakers. "