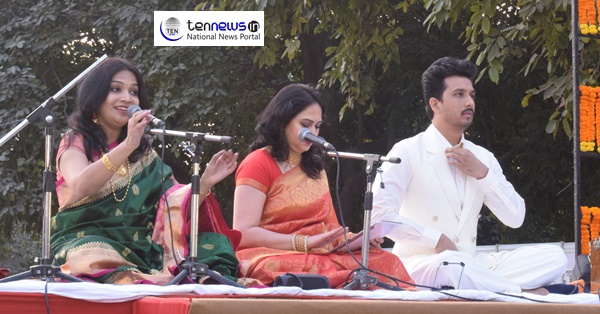 Shende Sisters Enthralls Everyone with Soulful music at India Gate
New Delhi: Delhi Marathi Pratishthan a socio cultural and economic organization for the Maharashtrians living in the Delhi and National Capital Region organized Diwali Pahat on Sunday, at India Gate Lawns, 6:30 am in the morning.
The organization aims to preserve the cultural heritage of Maharashtra through various cultural events and through such events create a cohesive platform for cultural and economic growth for all Marathi organizations in Delhi and NCR
Renowned Singers Sawani Shende and Bela Shende enthralled the audience with their soulful performance. Two Shende Sisters have choosen very different fields in Indian music and have excelled in their own respective ones.Sawani, chose the Hindustani classical field as her career as On the other hand, Bela chose the light music field due to her inborn liking for the same.
A number of icons like, Indian sculptor
Ram Vanji Suthar, Sambhaji Raje, descendant of Chhatrapati Shivaji and MP, Rajya Sabha , Chandrasekhar Garge were felicitated for their valuable contribution for promotion of Maharashtra Art and Culture.
Speaking on the occasion, Organiser said,
"As part of our endeavor, we have organized the much sought after "Diwali Pahat, since 2016 and other successful events such as Ganesh Aras Spardha, Chala Hawa Yeu Dya and the much loved, Raja Shivchhatrapati, aitihasik gaurav gatha.It's an absolute bliss to be enjoying Diwali Pahat at India Gate with so much energy and good vibes."
Video Highlights of Bela Shende and Sawani Shende Music Program at India Gate
Photo Highlights of Bela Shende and Sawani Shende Music Program at India Gate