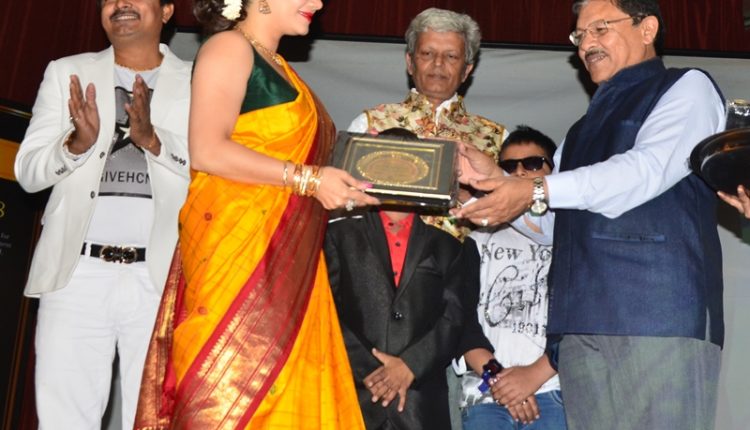 Socialist honoured at Social Activist & Talented Award SATIA – 2018  
PRERIT CHAUHAN (PHOTO/VIDEO BY SAURABH SHRIVASTAVA)
New Delhi: In order to preserve feeling of equanimity in the society many programs have been organized in past by various organizations, so that every person can perform better in their work with full confidence.
On the similar lines a function was organized in New Delhi, under the aegis of Maulik Bharat Publication, Ontime World Media, Patliputra Uday Magazine, Tatpar Organizer. On Sunday they organized Social Activist & Talented Award SATIA – 2018 which Awarded and honored the people who are working for the well-being of the society and performing excellently in their field of works.
The Programme was Graced by the Personalities like, Ira Singhal (2014 UPSC Topper), DCP Delhi Police Jitemani Tripathi, Assistant Commissioner, Sunil Satyam, HSC Haryana, Sanjeev Kumar

, Indian Television Actress (Kanika Maheshwari), Junior Mehmood (Indian Film Actor) and Shweta A Chaudhary (Mrs. Earth India 2017).
The Chief Guest of the Programme was Dr. Harsh Vardhan Minister of Science & Technology, Minister of Environment, Forest and Climate Change and Minister of Earth Sciences. Personalities like Shyam Jaju & Vijay Jollly also Graced the SATIA 2018 Awards.

Speaking to Ten News, Naeem Sayyed Aka 'Mehmood Junior'  Expressed his love for Film Industry, "I joined the film industry when I was nine years old. I lived in Antop Hill, Wadala, in Mumbai. My father was an engine driver so we lived in Railway quarters. We were six kids, two sisters and four brothers. I was the third. I was attracted to acting and started following my brother and began doing small roles", said Mehmood Junior.