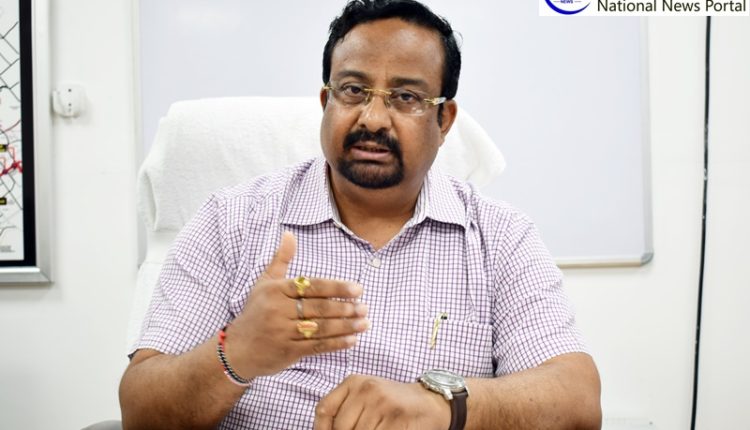 Solar powered Noida-Greater Noida Metro Stations to have screen doors at all platforms, Nine bids received for naming-branding rights!
Ashish Kedia (Photo by Lokesh Goswami )
Noida – Greater Noida metro is being developed at rapid pace and the NMRC board is eyeing many innovations to make it a world class metro corridor.
In a first, all metro stations of Noida – Greater Noida route will have platform screen doors for enhanced safety of passengers. Currently PSD or platform screen doors are being used at some high-footfall stations of Delhi metro route.
Other than this, all stations of Noida – Greater Noida route will be equipped with solar roofs.
NMRC Executive Director and GM Finance PD Upadhyay said, "Noida metro is committed towards a sustainable development. The roofs of all metro stations have been designed specifically to support installation of solar panels. The solar power thus generated will be used for powering the complete metro stations including the platforms, ticketing area, depot and parking facilities at station".
Currently the second phase trial of metro route is underway in which the metro is covering 15 stations from Greater Noida Depot to Noida Sector 83.
NMRC is also providing parking facilities at 18 stations out of total 21. Noida Metro Rail Corporation has collaborated with Institute of Urban Transport to work on last mile connectivity. IUT is providing a plan for last mile connectivity and there is also proposal of providing 34 seater midi buses for connecting metro stations to nearby residential or institutional areas. Public signages are being installed around metro to adequately mark different areas such as vendors zone, public parking etc.
The metro corridor is also being equipped with sound barriers at designated spot to minimize sound pollution near institutional and residential area.
Nine Bidders For Naming & Branding Rights:
To maximize the profit and make project more economically viable, NMRC has also opened bids for naming and branding rights of the stations. On Tuesday the bids were opened and nine companies had applied for the co-branding rights. The bidders include Advant group, Pioneer Publication, India TV, Expo mart, JP Group, NIET, Ansals etc.
Speaking about the naming and branding rights, NMRC Executive Director PD Upadhyay said, "Every station has been made open for private partnership and approx 500 square meter of branding space will be provided. We have received nine bids and many bidders have also expressed interest for multiple stations. The financial and technical bids will be evaluated and based upon the same the allocation will be done. The naming and branding rights will be given for a period of 10 years".