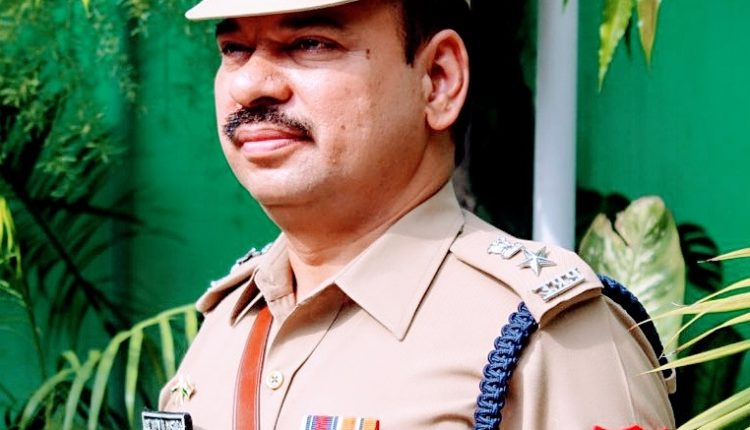 SP STF Rajeev Narayan Mishra to get prestigious DGP's Commendation Disc (Gold) on Independence Day!
SP STF Rajev Narain Mishra, will be awarded with prestigious DGP's commendation disc (Gold). The honor will be bestowed on Gautam Buddh Nagar district's senior STF officer Rajev Narain Mishra on the occasion of India's 71st Independence Day, on 15th August 2018 at DGP headquarters in state capital Lucknow.
Last year also he was awarded with DGP's commendation disc (silver).
DGP's commendation disc is awarded to deserving and meritorious police personnel including those from state level organisations such as STF, for extraordinary achievement in their field of service.
Rajeev Narain Mishra is being awarded this prestigious honor for his exemplary efficiency and outstanding performance in resolving the kidnapping case of HCL software engineer, who was kidnapped on 23rd of may in district Ghaziabad.
He was assigned with the task on 27th morning on the request of SSP Ghaziabad and his  continuous efforts brought fruitful results and he with his team was succeeded in rescuing the hostage and nabbed hardcore criminals after an encounter with them on 1st June.
Speaking about the same, Rajeev Narain Mishra told us that such operations provide him immense amount of job satisfaction, as nothing could be more satisfying than saving some one's life.
Memorizing the day of recovery of hostage, he says, "It was a proud, memorable and also emotional moment for whole of our team when we finally united the victim with his family after 8 days of kidnapping and torture. Bringing an end to his ordeal was a real morale booster for our whole team".
He further tells us that crackdown of this case was an exemplary professional work of his team since kidnappers were technically sound and committing no mistakes.
RN Mishra was also later called to STF headquarter, Lucknow to share the different experiences of this case and gave a presentation, as a case study on unveiling of this sensational kidnapping case.
He also played a very crucial role in the recent encounter with most dreaded hard core highly rewarded shooter Balraj Bhati with many more actions against different organised hard core criminals.
Last year he was awarded with prestigious commendation disc (silver) in Lucknow for resolving the complicated Ankit Chauhan's murder case who was chased and gunned down on a Noida road in April 2015. This case was transferred to CBI New Delhi and for unveiling of this case the CBI had announced the reward of Rs 5 lakh. It was a blind case with no initial leads or evidence to trace the culprits and officials simultaneously work at multiple angles to resolve the case. In June, last year Noida STF, finally cracked the case and arrested criminals. Mr Mishra was very instrumental in following this case and finally cracking it with arrest of convicts. During his tenure as SP STF he also disclosed online ponzi scheme involving fraud of Rs.3700 crore and more.
In past, SP STF Rajeev Narayan Mishra has also been awarded with President's police medal for gallantry. He was given this highly prestigious award for his exemplary bravery in foiling Ram Janmabhoomi Ayodhya terrorist's attack on 5th July 2005. During this attack, he was posted at Faizabad and in a joint encounter, gunned down five terrorist. Rajeev Narain Mishra is one of the most appreciated and decorated officer of the UP police.