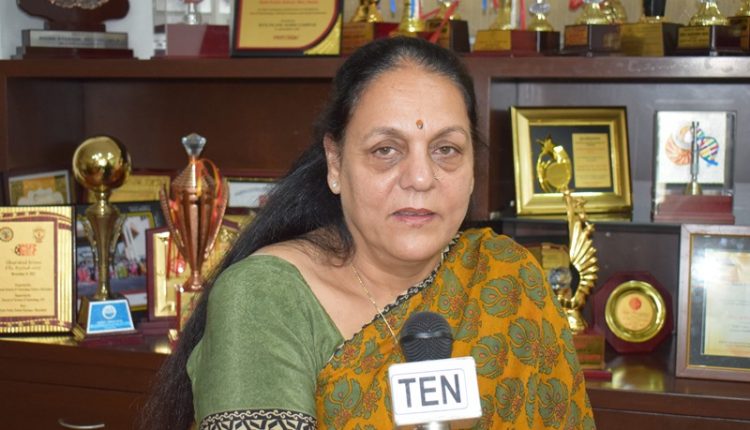 Special Interview : Teacher-Student Bond of Utmost Importance, Integrity must in education says DPS Gautam Buddh Nagar Principal Indira Kohli!
Ashish Kedia / Rohit Sharma / Saurabh Kumar
Noida  (19/04/2018) :
Its not everyday that you met an individual who is immensely learned yet impeccably humble, but Mrs. Indira Kohli, Principal of DPS, Gautam Buddh Nagar is one such rare individual. In a short conversation that we were delighted to have with her, she came out to be a compassionate, dedicated and exceptionally talented professional, who's passion and grit keeps students and teachers equally motivated.
With an experience of over two and half decades in education industry, she is a powerhouse of knowledge who dedicates her energy to all those little kids from her school. It is even surprising to note as to how she diligently handles administrative aspects without compromising on the opportunities to connect directly with students and their parents.
Ten News editor Ashish Kedia interviewed Delhi Public School, Gautam Buddh Nagar Principal Mrs. India Kohli to traverse various aspects of her educational career as well to bring forward the fruits of her rich experience.
Here are the excerpts from the conversation :
What do you consider as the biggest transaction in education sector in last few decades and how do you see the evolution of education in last say about 10-15 years?
Biggest transition has come in children. They have become more intelligent, inquisitive and digitally aware. The reasoning and critical power has increased. Previously children were more than often entirely dependent upon lectures however now students are inquisitive, they are interested to learn the how and why's of everything. This is what I consider as the biggest transition.
Technology has vastly influenced everything around us ? What according to you is its connection or impact over modern education ? For education is it a boon or a curse ?
There are always two sides of the coins. Technology has made learning very interesting. As students when were sitting upon benches, most of the things at that period were left to our imagination. But now with time, there are digital means through which one can learn. So education has become fun with digitally. Although it depends completely on individual whether it is going to be a bane or boon.
Administering such prestigious institution is no easy task, however what would you say is the biggest challenge that you had to face as the principal ?
Each child come from different backgrounds. We have children from EWS section from NGO's etc. so the challenge is to make them feel comfortable and accepted. For me all are equal and that is what we try to cultivate among our students. We teach everyone that no one is superior or inferior.
What are your views on the unfortunate CBSE Paper Leak incident that shook all around a fortnight back?
This is very unfortunate and this incident speaks about the degrading value system of society. In education system from people who setup paper to the store keeper, there needs to be integrity. Each child must get a fair opportunity to answer the paper equally.
It is that time of year when students anxiously wait for their results. But what follows is also a lot of confusion. So just to answer one of biggest queries what do you think shall be parameter for class 10th students to select stream and for 12 students to select course or college ?
I will advice all the students to follow their dreams and passion. Parent pressurizing their kid to chose some stream like science or Maths is wrong. If the kid has an attitude or acumen for that subject, they will certainly score good by themselves, however this pattern of using pressure for allotment of stream is very unfair to the kids and is completely wrong.