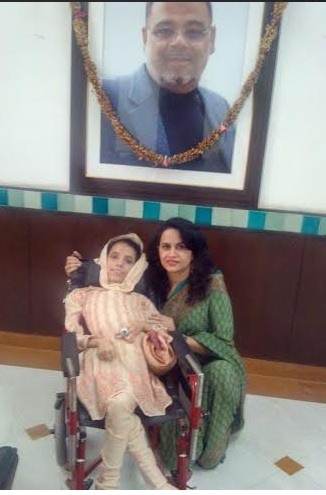 Specially-abled achiever from 'Mata Bhagwanti Chadha Niketan' receives the 'Rani Laxmi Bai' award
Mata Bhagwanti Chadha Niketan, a charitable school for children with special needs, received another accolade for their achievements. Zeenat Arha, a special student suffering from SMA (Spinal Muscular Atrophy) was felicitated with the prestigious 'Rani Laxmi Bai Award' from Mr. Akhilesh Yadav, Chief Minister-Uttar Pradesh in Lucknow today.
On this significant achievement, Director, Mata Bhagwanti Chadha Niketan, Dr. Vandana Sharma said, "Zeenat is an epitome of strength and courage. She is full of life and is a huge source of inspiration for the institution as well as for her fellow students. She is bright and intelligent and believes in self-dependence. We are proud of her achievements. She is a role model for many people."
The 'Rani Laxmi Bai Award', started in 2015 by Samajwadi Party, salutes the courage of extraordinary women. Exemplifying strength and courage, Zeenat was amongst the other 86 women from different spheres of life for their special accomplishments who received this prestigious award. Being an inspiration for many, she has come a long way and has emerged as a fighter. Zeenat has motivated many people to contribute to the special education system and work towards betterment of differently abled children.
On the occasion, Zeenat said, "I feel honored to be here amongst such great achievers and to receive this award with them. I have always believed that it is important to live a meaningful life. It is the ability to fight the adversities that make a difference. I am glad to have family and friends that have supported me throughout to become strong and reach my goals in life."
About Mata Bhagwanti Chadha Niketan
With the vision of enabling the disabled, Mata Bhagwanti Chadha Niketan, an initiative of Late Mr. Ponty Chadha, WAVE Group was established for the differently-abled children in the society. The institution was founded in 1999, with a special endeavor to educate and equip
special children to live within the community. The s chool is one of the very few private rehabilitation institutions, which provides gratuitous service to over 1000 students (free of cost), subjugating the cash-strapped society.
Spread over a huge expanse of 2 acres, MBCN is the largest day-care special school. Students are endowed with free hearing aids, wheel chairs, crutches, uniform, stationary and bus-transport, fostering independence for daily living skills in real life settings.
About The Ponty Chadha Foundation
The Ponty Chadha Foundation was set-up in the memory of Late Chairman Mr. Gurdeep (Ponty) Singh Chadha of the WAVE Group, led by his wife Mrs. Jatinder Kaur Chadha, to work for the general welfare of the society. The Foundation aims to channelize its capabilities towards social and economic development of the society at large and help the needy, underprivileged and weaker sections of the society irrespective of differences in caste, creed, colour, sex or religion. Its endeavour is to impart education, medical relief and food to the deprived through food bank.
The Ponty Chadha Foundation keeps community service in the forefront and is committed to work for alleviating the common social challenges faced by the poor and the otherwise neglected sections. It is dedicatedly working towards uplifting of the society, by regularly conducting free medical check-up camps and food drives. The most remarkable contribution by The Ponty Chadha Foundation is establishment of MBCN – Mata Bhagwanti Chadha Niketan, the school for the differently-abled.