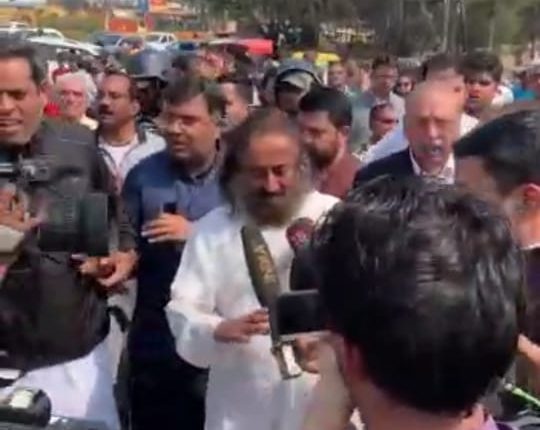 Spiritual Guru Sri Sri Ravi Shankar visits violence-ridden Bhajanpura
Vishal Malhotra / Harinder Singh
New Delhi : The situation is becoming increasingly normal in the violence-hit areas of north-east Delhi. Sri Sri Ravi Shankar, the spiritual guru visited the violence affected areas in Bhajanpura on Sunday.
In Brahmapuri area, he attacked Kapil Mishra and said that people should not pay attention to the statements of Kapil Mishra. Sri Sri Ravi Shankar expressed condolences to the people after visiting the area and urged his supporters and activists to extend all possible help to the people of the riot affected areas.
The spiritual master said that we have to bring people's lives back on track. The public will have to do all this together. On this occasion, the reporters asked him what he wanted to appeal to the government, he said that the government is doing its work, now we need to work together and rekindle confidence in the people. He said that he would visit every riot affected area, and also appealed to his supporters, activists and general public to help as many riot victims as possible.
A large number of police personnel have been deployed at Shaheen Bagh. Police came into action following the warning of the Hindu army over the demonstration at the picket site and the deployment of police as a precaution.
Joint Commissioner DC Srivastava said that the aim of the police is to maintain law and order and to prevent any untoward incident from happening. Delhi Police has also imposed Section 144 in Shaheen Bagh area.