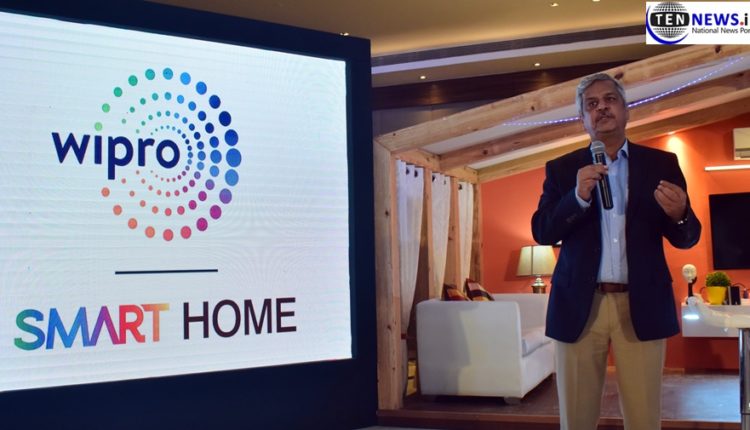 Step up to smart homes with Wipro Consumer Lighting & Switches
Vishal Malhotra/Lokesh Goswami Tennews New Delhi :
New Delhi (19/02/2020): There used to be a time when a water heater or some LED lighting fixtures were the pinnacle of technology in our homes. These technological advances however were very rarely an integral part of the home décor back then.
However, jump to 2020 and thanks to the widespread industrial revolution and evolving consumer patterns, users now naturally and behaviorally gravitate towards using controllers that are integrated with the home sub-systems. Access technologies via mobile phones / devices through internet from any corner of the world at any time and save energy by controlling lighting and their daily use appliances. This not only enables them to leverage interactivity and connectivity but also thrive in a residence that is facilitated with advanced lighting, appliances and security systems for balancing the homeowners' comfort with convenience.
From nascent to necessity, the smart home technologies have travelled a long way to gradually enter and settle amongst the Indian consumer base, defining modern homes with energy efficiency and cost affordability, making it a viable option to invest in.
Wipro has been an early entrant and at the forefront of LED lighting and smart lighting revolution, gaining leaps and bounds to find a home in all Indian consumers. To celebrate this evolution of smart home technology, Wipro Consumer Lighting & Switches in association with Techguru Rajiv Makhni in unique experiential activity, takes us on an interactive journey of their expansive product porfotilio. This experintial aims at displaying and demonstrating the functional aspect of each of their products and showcases Wipro Consumer Lighting & Switches's commitment towards raising a better world for our future generations.
Sanjay Gupta, Senior VP & Business Head, Wipro Consumer Lighting says "Over the last three decades, Wipro Lighting has combined technology and innovation to provide cutting edge solutions to consumers. Wipro pioneered LED range, smart lighting, in India. Our key focus is to lead and revolutionize the smart-lighting market."
"Our Smart range is a game changer. Be it the smart extension, socket or the bulbs or the swithces, the whole array of products from Wipro's smart home is a perfect fit for the modern day Indian homes. Sustainable and cost efficient, these are crafted with the aesthetics of mood lighting and healthy living, ensuring a sure shot transormation of our homes!" says Tech Guru Rajiv Makhni on the Smart Range of products from Wipro.