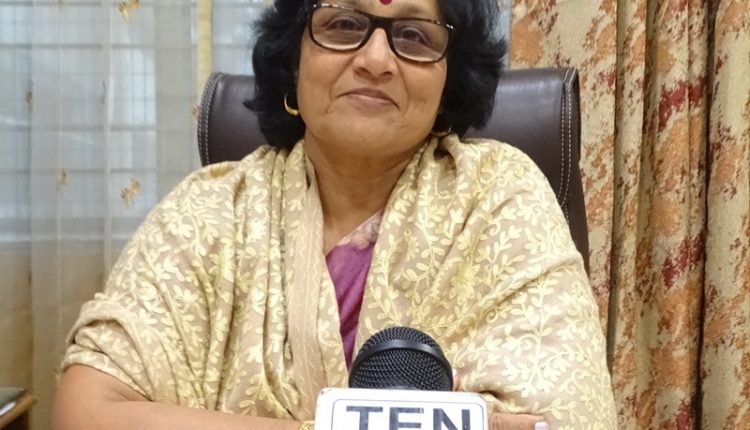 Successful Personality Interview : Somerville School Noida Principal Mrs. N Arul Raj
ROHIT SHARMA / ASHISH KEDIA
(23/01/18) NOIDA :–
In keeping with our aim to bring forward various facades of life of those who have made remarkable achievements in their life, Ten News today interviewed the very dynamic, jovial and insightful principal of Somerville Principal Mrs. N Arul Raj.
Here are the excerpts of the interview:
What's your biggest achievement so far?
Anyone would say that being principal of such prestigious school could be my biggest achievement but for me it is being a grandmother as so much of a satisfaction you get out of it. The fact that I have raised such good children certainly makes me happy.
What has been the greatest challenge you have faced in your life or career?
It is an everyday challanges to raise such dynamic boys and girls, with the things happening all around we always tend to keep finding solutions to them and it certainly is a challenge.
What is your success Mantra?
I believe that there is no substitute to hard work. Work hard and work honestly and that I say is my success Myntra.
Who's your favorite icon or role model of all time?
Mother Teresa is certainly someone that I idolize in my life. I believe if I can do a portion of what she did in her lifetime, I will feel blessed.
Do you believe in the existence of God?
Of course without God there could existence of life. He is our guide, friend, shelter and as I tell my children we must trust in God and everything will be alright.
Do you read books? Which book has influenced your thoughts the most?
I am more into fiction, I like light reading and that's what keeps me going.
What kind of movies do you like? and your favourite movies and actors?
Rajesh Khanna, the romantic hero was my favourite and as of now Aamir Khan is certainly one of my favorites as well. Kabhi Khushi Kabhi Gham is one of my most favourite movie.
What kind of music or art you love?
I like music. I am old fashioned from cliff rechord to Golden Era of Hindi music, all are my favourite.
What's your favorite sport? And your favourite sports personality?
I personally prefer swimming and even now I love to swim during summers. However in Sports I love to watch cricket as do most of India.
What is your opinion on Narendra Modi as PM so far?
PM Modi is a dynamic leader and a very good Prime Minister. May be it will take some time, maybe it will take some time but I am sure under his leadership we as a country will achieve good things