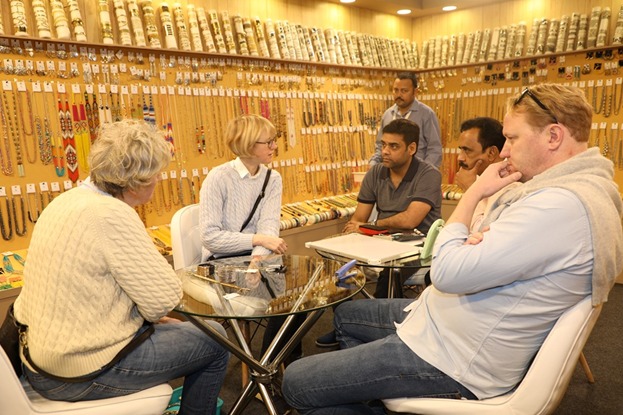 Sustainable Innovations, Natural Derivative Based Crafts Draw Overseas Buyers at IHGF Delhi Fair
Greater Noida – 18th March 2023 – With 14 well spread product categories in 16 expansive halls at the India Expo Centre & Mart, IHGF Delhi Fair-Spring 2023, continues to inspire and enthuse its patrons and first time trade visitors. India's varied geographical locations, have brought in distinct cultural identities and products made from an abundant raw material base.

Raj K Malhotra, Chairman, EPCH said, "Sustainability continues to be at the forefront of our product offerings at the IHGF Delhi Fair with a large variety in eco-friendly home, lifestyle, fashion, textiles and furniture products. You can find exhibitors and suppliers that are striving to do their part to ensure a more sustainable and ethical future. Many regional exhibitors have got vibrant eco-friendly product offerings," and added, "they have brought to the fair, cotton & jute lifestyle accessories, hand painted artisanal apparel using natural colourants, quilling crafts using waste cloth with paper, fashion accessories made from plant fibers derived during nature's cyclic changes, ahimsa (non-violent) silk scarves, stoles and bags, river reed (kauna grass) table accessories and multi-purpose bags, bamboo flasks and travel mugs with bamboo straws, cane & bamboo home decoratives and floor mats, etc."
"These are attracting lot of buyers." Dr. Rakesh Kumar, Director General, EPCH & Chairman, IEML, added, "with focus on circular economy and green supply chains towards a sustainable, inclusive and growing future, EPCH is steering the Indian handicrafts industry towards responsible manufacturing and greener value chains. The products not only reach retail shelves of the world's leading home & lifestyle brands but continue to be appreciated at international fairs of repute."
Jubilation their Visionary & Hero's conferral of Honorary Doctorate, various handicrafts and related trade bodies including, Moradabad Handicrafts Exporters Association (MHEA); Young Entrepreneur Society (YES); Jodhpur Handicrafts Exporters Federation (JHEF), Handicrafts & Carpet Sector Skill Council (HCSSC), & Srinagar Carpet Training Centre, Handloom Handicrafts Exporters Welfare Association (HHEWA), Buying Agent Association (BAA); Federation of Rajasthan Textiles & Handicrafts Exporters Associations (FORHEX); Saharanpur Wood Carving Manufacturing Association; Moradabad SEZ Exporters Association; U.P. Glass Exporters Association, FORTHE Jaipur jointly felicitated Dr. Rakesh Kumar in a celebratory function.
Speaking on the occasion, Dr. Rakesh Kumar said the love and affection received from the exporter's fraternity is heartening and it is this appreciation that motivates him to keep striving towards achieving new heights.  It is a team work of one and all which resulted in the overall growth and development of the handicrafts sector.  He thanked the entire exporter's fraternity for the felicitation and hoped to fulfil all their expectations in the years ahead as well.
R. K. Verma, Executive Director, EPCH, further informed, "EPCH's VRIKSH certification-'Sustainability through Legality' is globally recognized as a standard, assuring sustainable trade of all timber species. With this, EPCH's mandate is in sync with the United Nation's Sustainable Development Goals (SDGs) that emphasize the interconnected environmental, social and economic aspects of sustainable development."
Dileep Baid, Vice – Chairmen, EPCH, informed, in keeping with the significance of this theme, a Panel Discussion on 'Sustainability, Circularity & Net Zero in Handicraft Sector' was organised during the fair, discussing pressing issues concerning the environment and how the handicrafts industry can work in sync with sustainability goals to use resources judiciously and reduce wastage. In another seminar titled, 'New Wood Species – available for Handicraft Sector' experts from Forest Research Institute of India spoke about a new wood species – Melia dubia (Malabar Neem) that is malleable, available and exportable with suitable features to be developed into woodcrafts, woodware and furniture. Seminars on Leveraging India's Recent Free Trade Agreements, Banking Solutions for MSME's and Export Credit Schemes were well attended too.
"Buyers in good numbers visited the fair so far and are looking at big statement pieces as well as small theme collections in furniture, home décor, home textiles, jewellery and even gift packaging," said  Neeraj Khanna, Vice Chairman, EPCH. Herve from France who is here to source home decor products, noticed many nice products to short list and said, he prefers working with Indian suppliers as they have a better understanding of European markets. He is already planning his next visit for garden items. First time visitor, Elliot from USA is enjoying the fair and is zeroing down on coffee tables and benches for sourcing. "These products are lovely and Americans find them to be very tasteful," he remarked. "Artisans, regional groups and small entrepreneurs have also got lot of orders from domestic volume buyers," added Avdesh Agarwal, President, Reception Committee, IHGF Delhi Fair-Spring 2023. Ramp Presentations held every day at the fair, continues to enthral visitors.
Among dignitaries from the Govt. of India and special guests, the fair has been visited by Rajendra Agrawal, Member of Parliament from Meerut Constituency (Uttar Pradesh); Rajendra Gehlot, Member of Parliament in Rajya Sabha from Rajasthan; Haji Fazlur Rehman, Member of Parliament from Saharanpur; Prateek Trivedi, Anchor of ' Bhaiya Ji Kahin' on News 18; – Smt .V. Shobana IAS ,Managing Director, Tamil Nadu Handicrafts Development Corporation Ltd.; Anil Agarwal, Addl. DGFT, Ministry of Commerce & Industry, Government of India; Rajiv Kumar, Joint Secretary, Ministry of External Affairs; Amitahb Kumar, Joint Secretary, Ministry of Commerce & Industry; Yashvir Singh, Economic Advisor, Department of Commerce, Government of India; Suresh Londhe Jt. Director, Directorate of Industries Government of Maharashtra; Harmeet Singh,  Addl. Commissioner of Police, Delhi Police(Cybercrime); Sohan Kumar Jha, Senior Director,  O/o Development Commissioner Handicrafts.
EPCH is a nodal agency, promoting exports of handicrafts from the Country to various destinations of the world and projecting India's image abroad as a reliable supplier of high quality handicrafts goods & services. The Handicrafts exports during the year 2021-22 was Rs. 33253.00 Crores (US $ 4459.76 Million) and during April-February' 2022-23 is Rs. 28727.91 Crores and USD 3505.84 Million informed by Dr. Rakesh Kumar, Director General, EPCH.