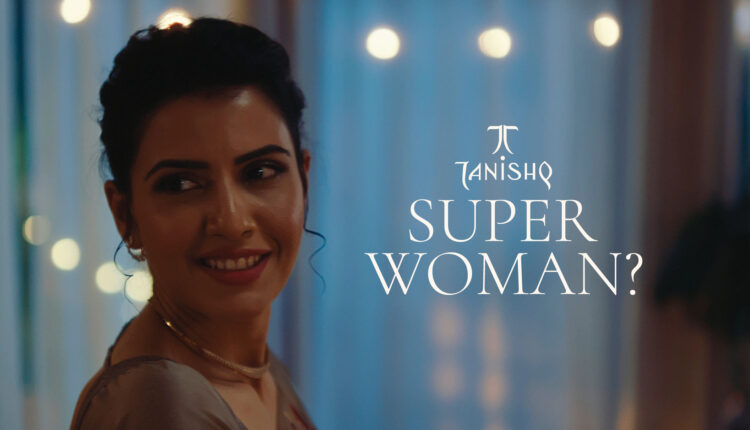 TANISHQ & TALENTED ARE DETERMINED TO BREAK THE 'SUPERWOMAN SYNDROME'
9th March 2023: The world is not new to social empowerment narratives directed at women. The idea that a woman can do anything, has been interpreted as a woman must do everything. There's an internal and external burden of potential that women face today. That the modern woman should fulfil her duties to herself, her family and her career with perfection and never lose her balance. That as a founder, she must crush the investor meeting, and invest in her family and children – with equal perfection. We have turned women into superwomen. They are forces of nature, with ten hands, who can be everything, and are present everywhere, all at once.

Tanishq and Talented, along with Superfly Films have come together to remind everyone that before she's a superwoman, she's human. And its human to struggle, and to fail.
Watch the film here – https://www.youtube.com/watch?v=nX_cHu8ljl4
Ranjani Krishnaswamy, General Manager-Marketing, Tanishq said, "Today, women across the board are striving to strike the effortless balance between the multiple roles they play in life and are under the constant unsaid expectation to be thriving at it. But here's a reminder to pause and remove that metaphorical cape sometimes, after all you are human too. This narrative is inspired by the stories of many superwomen all around each one of us celebrating the other side of what goes into making them" 
Binaifer Dulani, Founding Member & Creative at Talented said, "We have higher expectations from women than we do from humans. Women today suffer from a burden of potential. A dad may get a standing ovation for packing lunch for his kids on one day – but the benchmark for women is much higher. Being called a superwoman is a compliment only when it's not an expectation. This is as much a narrative about gender, as it is about mental health. Women's week felt like a moment as good as any to bring this forward." 
Kopal Naithani, Founder and Director, Superfly Films said, "Do women have the luxury of time? We are so busy trying to ace everything in life, living above and beyond the idea of being a multitasker that I don't think we even realise when it begins to take a toll on us. Somewhere we have ourselves forgotten that we are human. That we can or only need to do so much. The world sees women in a certain light but where do women see themselves? And I think that is where the climax of the film takes us – this campaign is a long overdue reminder."