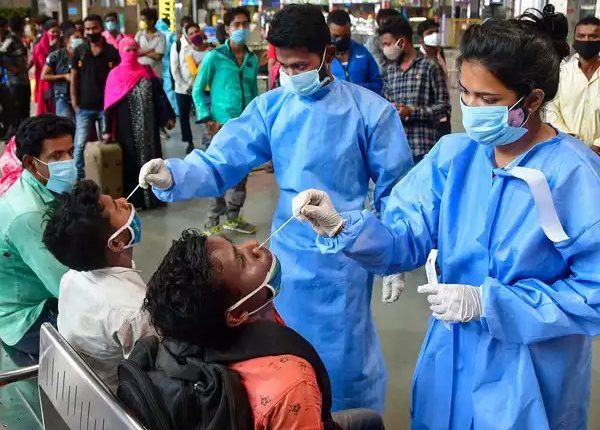 Ten News Editorial: Second wave created by the government of the people and also by we the people
Ten News Network
India in the last 24 hours has reported 2.17 lakh fresh COVID-19 cases, thus making an unfortunate new daily record.
As many as 1,185 people have lost their lives to this disease in past 24 hours.
If these doesn't horrify you, either you are living under a rock or in a parallel reality.
There is no two opinion in the fact that India is witnessing a health crisis in its worst form. There are hundreds of videos on the social media showing the extent of our unpreparedness – from hospitals overflowing with patients to dearth of oxygen and life saving drugs.
Indeed, it is hard to believe how we managed to get ourselves at this stage. Wasn't everything almost alright till mid-March? The thing later took a turn for the worst and there has been no improvement so far.
The answer is somewhere around us – remember the huge election rallies, the religious congregation, the misplaced priorities and a casual approach towards adapting to Covid-19 preparations.
National capital Delhi reported the highest single-day spike on Wednesday with 17,282 fresh Covid-19 infections and 104 related deaths.
According to the latest state health bulletin on Wednesday evening, the total infection caseload of Delhi has reached 7,67,438. There are 50,736 active cases here as of today. The overall Covid-19 death toll of the national capital now stands at 11,540.
While the situation had been worsening for quite some time now, it is only today that Delhi Chief Minister Arvind Kejriwal had called for meeting to review Covid-19 situation in the Capital at 4 pm.
According to an order, Delhi Dy CM Manish Sisodia appointed 'Nodal Minister for COVID-19 management', will be responsible for inter-ministerial coordination.
The situation is no better in almost any city or state that one can name. And what is our government doing? Hiding numbers, discouraging tests, trying to come up with flimsy reasons for their incompetence or shifting the blame on others?
So who all is responsible for it? The blame lies on the government – our high and mighty leaders who didn't pay any heed to the worsening state of the country. And also on us the citizens, who kept on witnessing the constant surge yet went on with our lives as usual.
The blame of this problem is on we the people and the government which was supposed to work for the people.
The measures that the government should have ideally taken over a fortnight back are being considered. Because alas our leaders, from the Prime Minister to many CMs were busy in organising and leading huge election rallies at a time when they should have insisted on masks and social distancing.
There were enough indications from Europe and US, of a second stronger wave. Yet over government single mindedly remained focused on election campaigns and gave no heed to the worsening situation.
After reaching the tipping point, it is only on Thursday that Uttar Pradesh government has realised the need to restrict movement in markets during late evening hours.
"Corona curfew to be effective from 8 pm to 7 am in all 10 districts with more than 2,000 active cases including Lucknow, Prayagraj, Varanasi, Kanpur Nagar, Gautam Budh Nagar, Ghaziabad, Meerut, Gorakhpur," the chief minister tweeted.
According to Union Health Ministry, Uttar Pradesh reported 14,404 new Covid-19 cases, 3,474 discharges, and 85 deaths on Thursday.
With a state "officially reporting" so many cases, the last thing that one would assume to be taking place is elections. However, that's exactly what is happening at the moment in Uttar Pradesh. Campaigning and canvassing are at its pinnacle in different districts of the state for the ongoing Panchayat elections.
Many politicians who are sharing their public meeting address video during the day are turning out to be Covid-19 negative in the evening.
So while, hospital beds and facilities might be available to them, it aren't for the commoners.
And Delhi's other neighbour – Uttarakhand – is doing no better.
State's capital Haridwar, which is hosting the Kumbh mela – has reported 1701 Covid-19 cases in last five days. Indeed, the minister has said that they won't cut short the Kumbh mela duration.
And what is the solution, even if there is one? As of now there is hardly any hope in the horizon. While government seems completely on the backfoot, it's just the civil society trying to do its bit during these trying times. We can just pray that the things would be better. When ? God Knows !