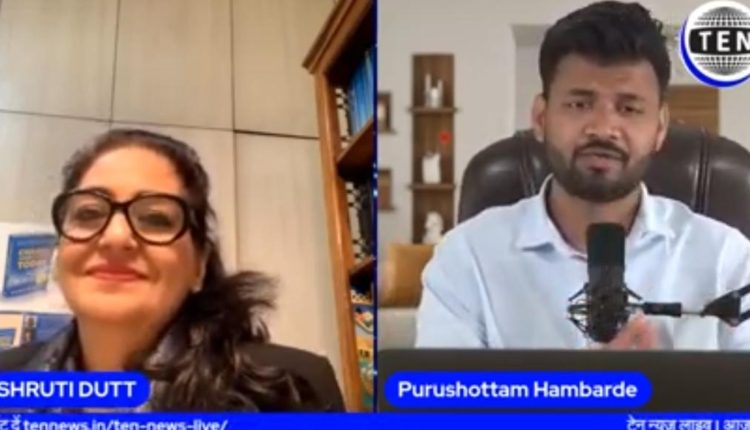 Ten News Inspirational: Purushottam Hambarde's journey through transforming lives, nurturing talent
Ten News Network
On Saturday, 20th February Ten News conducted a special interview of Purushottam Hambarde, Digital Coach & Mentor. The special show was hosted by Shruti Dutt, Author, Speaker and social activist and was live-streamed from TEN NEWS LIVE Studio on TEN NEWS NETWORK's 2 Channels.
Giving a warm welcome to Purushottam Hambarde, host for the evening, Shruti informed the viewers that Purushottam is a great master, he has transformed himself first and then he transformed his family life and is currently on a mission transform people and their lives. He is doing a phenomenal job and now I'd like to ask him to share his recent success story with us
Answering the question Purushottam gave a brief info of his background and said,"I belong to a small village with a farmer's background. As I have a farmers' background everybody in Maharashtra use to say how it how is it possible for a farmer to compete with people who live in metro cities. But I believed in myself and now I am at a place where I have launched my Video making course Called "Video Making Mastery" to help people become better at sharing their knowledge in front of camera and building their confidence. Because of that 3500 people joined my program and I was able to generate 1.2 crores of revenue in 2020 itself."
Next, the curator of the show asked him about his initial years. When you were growing what are were your aspirations and what you used to like as a child?
Replying to it, he said, "Initially, I wanted to become a doctor and I went for preparing NEET exams but landed up preparing IIT JEE exams and then I went to Mumbai. And there I first heard the word entrepreneur and I started a startup, but I field then after I started as an internet entrepreneur. I started getting details of this field at that time mostly international peoples are big names in this field. I followed their advice I worked day and night I kept learning. That time I learned about the online world that if you put videos kept learning they will fruitful in future."
One of the things, that sets this coach apart, is his impeccable energy, so what's the secret of it and what's his diet?
"First get done with your measurement and then you will have better clarity about how much calories and how much protein you need. I don't eat heavy at a time, I eat 4 times a day and drink lot of water that too Lukewarm as its good for health and my throat as well because I have to speak a lot. I focus a lot on my workout I'm sure that I don't miss my gym," he shares.
Since earning laurels, Purushottam Hambarde has also given back much to the community. So how does he work in that domain?
Explaining it, he said, "During the Covid times, there are a lot of ladies out there who had no one who can earn bread and butter for them. Many of the people had health issues and no one was there to provide medicines to them. So I collected money from my community and added my money to and we reached out to most of my villagers and gave one month of rashan and essentials to them. I want to help 1000 people and want to give 10% back to the charity, from whatever I earn as it helps you in growing if you do it selflessly."