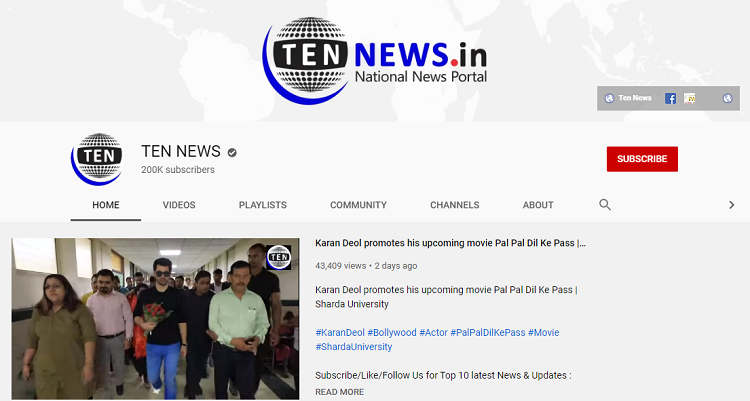 Ten News YouTube Channel hits another milestone | Crosses 2 Lakh subscribers on YouTube
Vishal Malhotra (Photo-Video) Lokesh Goswami Tennews New Delhi
New Delhi (18/09/2019): Ten News YouTube channel, today crossed 2 lakh subscriber limit with the love and blessings of our viewers and will surely maintain real-time consistency through providing highly newsworthy videos for the end users.
It was just few months back when Ten News crossed the subscriber limit of 1 lakh happy viewers and it is pretty obvious as per their feedbacks via e-mail that Ten News has been successfully discharging its responsibility to give balanced, fair, timely and accurate news without sensationalizing the news.
Ten News YouTube Channel with 2 Lakh plus subscribers is also closing with the Watch time of 9.7 crore minutes and 5.70 crore views. 20% of the traffic is coming from the countries like USA, UAE, Saudi Arabia and Pakistan which is rare feat for any YouTube Channel.
The channel features entertainment, exclusive stories on Politics, Sports, business, technology, development and lifestyle apart from publishing for our viewers various live webcast. Videos on the topic like SSC Protests and Cricket World Cup interactions have garnered more than 10 Million plus views and more than 1 Million likes with lakhs of comments for Ten News videos.
Featured Interviews with celebrities have been a instant hit amongst the youth. Interview with Roadies Real Heroes Judges Crossed 1 Lakh views in just 7 Days. Videos of Bollywood celebrities like Shahrukh Khan, Katrina Kaif, Kareena Kapoor, Sara Ali Khan, Kartik Aaryan has been showered with love on the Ten News YouTube Channel.
In an era of thousand of digital news feeds it is difficult to point out good sources per se. In such a situation, Ten News has emerged as one of the reliable and unbiased source of political, business, technology, entertainment, city news in India. Providing updates faster, tennews.in : National News Portal is the one-stop solution for getting regular news feeds on time.
With the Independent and outstanding team, Ten News believes in Journalism of Conscience for its followers and subscribers at first place. Ten News Network's 4 news portals, 8 social media channels, One YouTube News Channel, 70 whatsapp groups and channels show quality journalism, reporting and trustworthy news.
We are grateful to Galgotias University for being our prime sponsor . Our special and heartfelt gratitude to Dhruv Galgotia, CEO , Galgotias University for his constant encouragement and motivation to Ten News Team to march ahead.
We thank our readers, viewers, subscribers, followers for reposing trust in us. For those who don't want to miss on breaking news and other stories, please subscribe to the channel and press the bell icon for notifications: