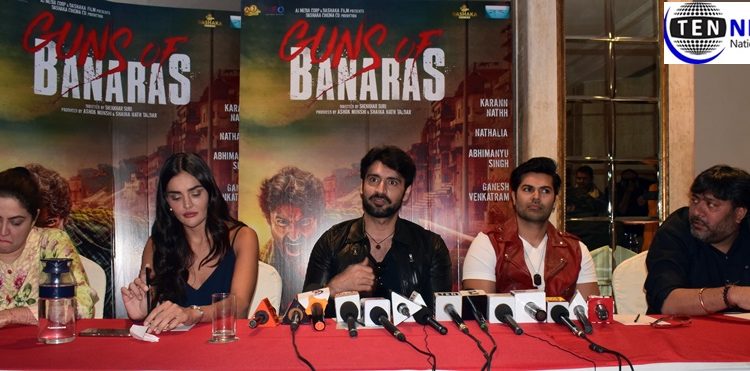 The Guns Of Banaras star cast promote their movie in national capital
Saurabh Kumar/Lokesh Goswami Tennews New Delhi :
New Delhi : A remake of the Tamil film Polladhavan, Guns of Banaras starring Karann Nathh is all set to hit the big screen on February 28th. Today the star cast of the film visited the national capital for promoting their film.
Earlier the first teaser of the film was released online at Indore by the star cast Karann Nath, Nathalia Kaur and Ganesh Venkatram. Looking at the teaser it can be said that the film directed by Shekhar Suri is set to woo the audience with a power packed performances.
Karann, who is also the son of film producer Rakesh Nath was a child artist in the film Mr. India. In the current film he is seen performing some dynamic action sequences in the role of an angry young man Guddu Shukla.
The film as the title indicates was mostly shot on locations in and around Banaras. The action film look as real as real can be and the reason behind is the Sham Kaushal, who is now unquestionably the number one action co-ordinator of films in India.
Nathalia spoke about the difficulties she faced while doing the movie, "For me, the biggest challenge was learning Hindi. My mother-tongue is Portuguese and I am a Punjabi girl, so I had to be there in Banaras and interact with people."
"The songs have the scent of the soil and without any attempt to flatter a friend's son, I must say that Karan Nath has put in a do or die performance. I will say more about the film when I see the entire film" said the film director.