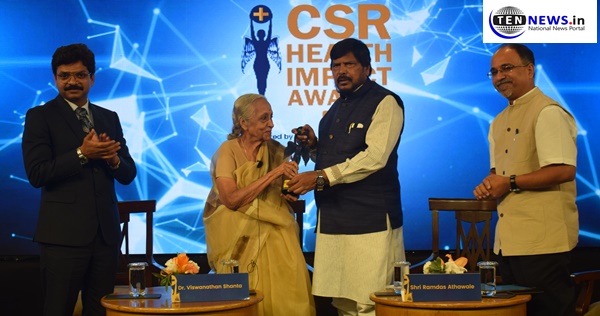 New Delhi, (27/6/2019): A little appreciation and recognition always go a long way and awards are a way to motivate people and organisations to go that extra mile by creating positive energy and a healthy competitive spirit.
The CSR Health Impact Award recognises and applauds organisations which have imbibed responsible business practices in their core philosophies, and implemented health-focused CSR ventures that have driven real change on the ground and positively impacted lives.
The third annual edition of the CSR Health Impact Awards took place today, in New Delhi. An initiative of India Health & Wellness Summit — the awards are meant to inspire organisations to drive a pan-India CSR–based health movement.
MoS Ramdas Athawale and Dr. V Shanta graced the event as the chief guest. Dr. V Shanta was awarded with the lifetime achievement award for her 60 years in ensuring care to the cancer patients and their treatments.
The aim is to appeal to the corporate conscience to encourage participation at a larger scale and deliver nation-wide impact.
Kamal Narayan, CEO Integrated Health and Wellbeing Council, speaking about this initiative says, "The initiative of CSR Health Impact Awards emerged from the philosophy of India Health & Wellness Summit, the country's only forum on holistic health. This is based on the belief that health is the precondition for all other developments that aim towards national growth and creation of a stronger India.
"We also believe that health is everyone's responsibility. With this, we aim to drive a CSR-based health movement by appealing to the corporate consciousness of all organizations to participate at a grander scale and contribute towards making a healthier India."
Ramdas Athawale, Minister of State for social justice and empowerment and the chief guest of the event while addressing the event said, "with its implementation in 2014, India became the first country in the world to mandate CSR. Around 56,000 crore is the prescribed CSR spent between FY 15 and FY 19.
"A number of initiatives were undertaken including directing public sector enterprises towards supporting aspirational districts program of the government. The BJP is keen in making health sector of India the best in the world and we welcome anyone who is having any sort of problem, come to us BJP doors are open for all".