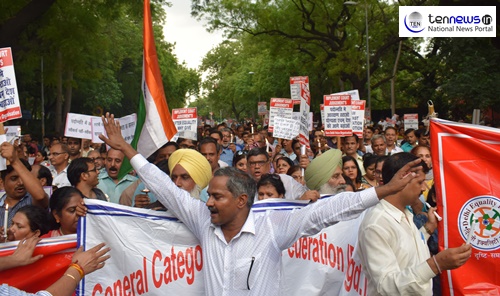 New Delhi: The Supreme Court has scheduled the hearing of the case related to reservations in promotions for Scheduled Castes and Scheduled Tribes categories on 3 August, while The Top Court has refused to pass an interim order against its 2006 verdict which dealt with the application of the 'creamy layer' for reservations to Scheduled Castes and Scheduled Tribes categories in government job promotions.
On Thursday, Over 1,000 people, under the banner of Delhi Equality Forum hold out a candle march from patel chowk to Parliament. The protesters were stopped by the police at Parliament Street where they staged a protest for some time and Protesters also let their voices be heard through some ingenious slogans and banners.
Speaking to Ten News Protesters said,
"India is rising to stop discrimination and stop the misuse of the constitutional powers for securing power. We are Thousands of employees are holding candle march under the Banner of delhi equality forum to implement the 23.07.2017 high court orders against reservation in Promotion."
"Reservation in jobs weren't enough that they chose to apply the same to promotions too. Reservation in promotions has been a debatable and gives added advantage to SC STs by way of accelerated promotion over open category," Protesters added.