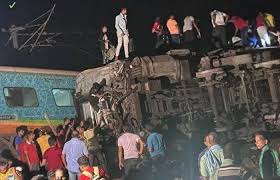 In a devastating train accident on Friday evening, the 12841 Shalimar-Coromandel Express collided with a goods train at the Bahanaga Bazar station. The collision has resulted in a significant number of casualties, with over 50 people feared dead and more than 179 passengers injured.
The incident occurred around 7:20 pm as the Shalimar-Coromandel Express was en route from Shalimar station near Kolkata to Chennai Central station in Tamil Nadu. As the superfast express train approached the Bahanaga Bazar station, a collision with a goods train caused the Coromandel Express to derail and fall onto the opposite track, leading to a catastrophic outcome.
Rescue operations were immediately initiated at the site of the mishap. Prime Minister Narendra Modi expressed his distress over the accident and took to Twitter to convey his condolences and assure the affected families of all possible assistance. PM Modi also revealed that he had spoken to Railway Minister Ashwini Vaishnaw and was briefed on the situation.
"In this hour of grief, my thoughts are with the bereaved families. May the injured recover soon," the Prime Minister tweeted. "Rescue ops are underway at the site of the mishap, and all possible assistance is being given to those affected."
The exact cause of the collision is yet to be determined, and an investigation will be launched to ascertain the circumstances leading up to the accident. Railway authorities and local authorities are working in coordination to aid the rescue and relief efforts. Medical teams have been dispatched to the scene to provide immediate medical attention to the injured.