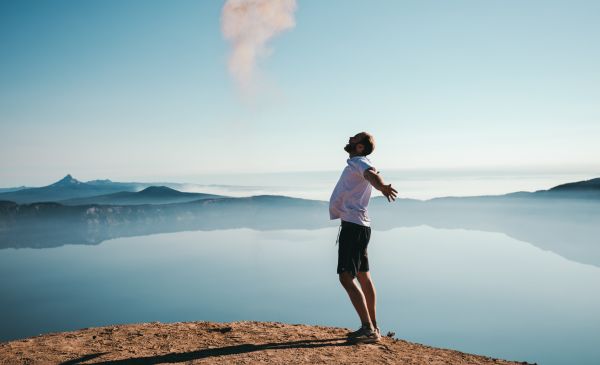 Traverse happiness amidst the COVID-19 crisis and beyond
Dr Jagannath Patnaik, Eminent Educationist and Spiritual Mentor
The world is in a bit of a weird place right now, and it's affecting our health, communities, livelihoods and so much more. It's hard to live in such times of uncertainty, yet it is forcing all of us to slow down. Maybe we can use this time of trouble to focus on what is truly important; to be present, to be calm, to be kind to others and to the planet. And remember; keep your hands clean, your head cool and your heart open.
COVID-19 has zoomed into global health and well being in the priority monitors. Just because we are advised to be in confinement and isolation doesn't mean we compound this experience with a flavour of sadness. People around the world are innovating the way they cook, the way they do lectures, the manner they relax, the manner education scenario is being revamped and so on. Maybe it's time you decide what you can innovate—maybe your next meeting or your next morning meditation practise and share it online.
The blipping notifications and updates of news about the toll undertaken by the coronavirus takes everyone into concern by nature. In many countries around the world, people are living in fear, not knowing where the virus will show up next or how long it will continue to dictate our movements. Happiness is  numero uno in wishlists of humans, although how to find it seems to be the million dollar question. We're living in a time of material abundance, while many of us still suffer. On top of that, social media has anchored itself in our lives, creating an extra obstacle for obtaining the big H and so the quest continues. The number of 'likes' we receive on social media often determines how we feel about ourselves and could potentially lead to an increase in feelings of depression, poor body-image and loneliness. The answer isn't to blame social media, as we are then still focused on the outside. The key is to look within. So are you ready to transform your life?
A frightening mood of crisis dominates our everyday life at present. The coronavirus is omnipresent and dominates the media. Many people are socially isolated, and perhaps your happiness has reached a low point, as it has for many others. From factory closures to grounded flights, hotels and tourism destinations, there is also concern about the mounting economic fallout from the outbreak. Are our jobs safe? Will the economy collapse? Will businesses thrive again once the virus has run its course?
The anxiety is real – we only have to read about mask. Nothing in life is to be feared, it is only to be understood. Now is the time to understand more, so that we may fear less. In every crisis, doubt or confusion, take the higher path – the path of compassion, courage, understanding and love."
For a lot of us, life under quarantine is becoming difficult. The rookie traveller inside us wants to go out and explore. But we can't. If travel is what makes you happy, you can do that while sitting in your room too. Keeping up with the need of the hour, a lot of tourist destinations have started virtual tours. If virtual tours are also not your jam, then pick up a travel book and see a new city through your eyes and feel it.
Let this fear be your friend, companion and guide on this journey at your home – a place of love, peace and joy – while we let nature be our teacher. And once we live from this place, social media can finally play the role it was meant to play all along.
Joy, happiness, glee, laughter – these are words that belong to the same family and somewhat mean the same. Right? But staying at home for over 15 weeks now, without being able to go out or meet your family or friends or travel on business trips, has led to the setting in of a gloomy vibe and the feeling of happiness seems alien.
If someone would have told us at the beginning of 2020 that April will be spent like this, quarantined at home due to the novel coronavirus, we wouldn't have believed that the world could come to such a halt. This new normal of not being able to go out even for a morning walk has taught us to never take anything for granted. But what this time has made us realise, is that the little things that we did not pay much attention to, bring us the greatest joy. We never thought a simple morning coffee or a video call with family would be such an endorphin releaser.
For people who are staying away from their family, this is the time that you make the most of technology. Giving your parents or siblings a video call to discuss what you will do when you meet them, or going down memory lane with your long-lost friends whom you have not spoken to in ages because of your extremely busy schedule, has become an all-time favourite activity.
The one connection that most of us lost because of the hectic life, was with self. This lockdown has slowed the pace and given all of us an opportunity to lie back and look at things from a different perspective. Go back to your old pictures, relive those years and connect with your old self. Do what makes you feel happy. With no rules and no set-in-stone routine, there is nothing stopping you. This is the time when you make the rules, because you know what works best for you and how you will be able to adapt to this new normal. Take things one day at a time.This makes a lot of difference.
This lockdown is not a productivity contest. Planning for the future gives hope and at this time, it is what we need. You don't have to plan anything big; just think about what you want to do when things get back to normal. The science of emotions is incredibly complicated, but it is also well-studied. It's easy to run over and over the topic that's stressing us out, whether that's the new coronavirus outbreak, the state of the climate or something else.
How we interpret our emotions is largely down to how they're framed – in other words.we should not set an expectation of winning everything,and degrade ourself into abject failure on a loss. This is a trap perfectionists tend to fall into, and it's why perfectionists tend to respond with more guilt, shame and anger when they feel they aren't succeeding. They may even be more likely to give up.
It's worth thinking about how you can apply this in your daily life: can each moment or day be about doing the best you can in a stressful situation ("I will practice proper hygiene and social distancing"), rather than focusing on an outcome out of your control ("I will not and cannot get sick")? And again, if you're focused on an outcome like "I must feel happy", you may feel worse about yourself if you don't succeed – even though it's perfectly natural to have a more difficult time feeling happy in stressful times.
We can improve our mood by focusing on the small things that bring happiness to us each day. It may be wise, then, to spend less time trying to become happy, and focus more on the little things that make us happy. But, it's important to remember that we're all in this together. Around the country, people are banding together to support each other during this uncertainty. On an individual level, it is important to remain happy and healthy. We've put together some easy ways to take care of yourself. However, happiness is not lost, and the key to finding it during this time is not through social distancing but rather through distance socializing. Remaining socially connected with friends, colleagues, and family is crucial in finding happiness during this public health crisis. Three simple techniques correlated with greater levels of happiness and positivity to combat coronavirus pandemic stress.
This control part is key. Stressful situations are often beyond our control, and we create anxiety and worry when we try to control what we can't. Focusing on what can be controlled, on the other hand, can decrease feelings of anxiety.
Learn to smile, think positive and practice gratitude during this low phase facing the coronavirus challenges along the journey of life. Do not forget the ultimate goal of your life – it is simply to be happy. Choose happiness as an indispensable part of life rather than feeling that it is something that you have to achieve by gaining something.
In time, even as our stark new normal begins to get clearer, to assume anything is folly. Together, we will see these tough times pass. But beyond the fragility of the way life works at the moment, we have a golden opportunity; to discover new ideas, rethink old assumptions, create new magic. By doing this we can emerge from this global crisis stronger, wiser and more prepared for future challenges.