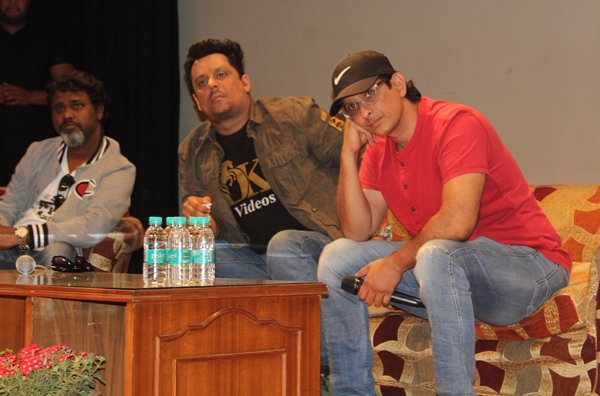 Greater Noida: Actor Sharman Joshi, along with director Aryaan Saxena, promoted their upcoming movie 'Fauji Calling' at the Ishan Educational Institution, Greater Noida on Sunday. The lead actress of the movie, Badita Bag, could not attend the event.
While having an interactive conversation with students at the Institute's auditorium, Sharman shared insights of the movie saying "Our movie shows the journey of a soldier and his family members. India shares border with various neighbouring nations, and Indian soldiers regularly sacrifice their own lives to protect the civilians. On this subject, a lot of good movies have been made in recent times which shows the velour and sacrifice of a soldier which is also understood by a common man, but the turmoils of the soldier's families are often overlooked."
"Fauji Calling" is a tribute to the soldiers and their families as it highlights their side of sacrifices as well," he added.
The trailer of the movie was released by Defence Minister of India, Rajnath Singh in New Delhi and received much appreciation at the gathering. The movie will be hitting the theatres on March 12.
The movie has been inspired by the 2019 Pulwama attack and beautifully depicts how the families of the soldier's struggle post their death.
During the interactive section, students also asked questions on acting and cinema, to which Joshi advised students to Join NSD and FTI. On students demand, he also performed his very popular scene 'how a DC motor works' from the movie 3 idiots. At last, a photo session took place with students.