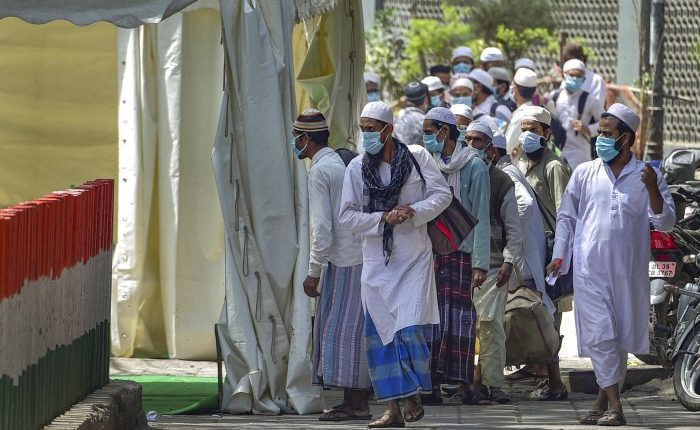 Twitter hosts fresh round of communal attacks over Nizamuddin Markaz event
At a time when the world is struggling to contain the Coronavirus Pandemic, twitterati's in India have started a fresh round of communal attack over the controversial and deplorable event at Nizamuddin Markaz Mosque, Delhi.
Partisans of both the religious communities have came out of their grave furiously attacking the other religious community just over a month after communal attacks in Delhi.
In the morning, the word 'Muslims' and 'Hindus' were the top trends on twitter.
Whereas #TablighiJamaat, #मीडिया_वायरस, #NizamuddinMarkaz and #CoronaJihad were some hashtags that were used by both the sects to narrate their own version of the story.
One sect of the media and a particular religious community defied the allegations on the people who hosted the event by raising opportune yet valid questions over a Hindu sect hosting Gaumutra party, Shirdi temple remaining open for the devotees till 17th March, some exuberant people dancing and gathering on the day of Janta Curfew at 5pm and most importantly the negligence of police and airport authorities who allowed so many foreigners at first place.
14th March 2020.

Haan ji, any arrests/ FIRs for the famed Gaumutra party?

200 people were in attendance, no social distancing was observed and no masks were spotted. https://t.co/zPrBEiVA1J

— Sidrah (@SidrahDP) March 30, 2020
मैं हैरान हूँ कि जब सरकार के अनुसार जनवरी में ही एयरपोर्ट पर लोगों की स्क्रीनिंग शुरू हो चुकी थी, तो ये सैकड़ों लोग मार्च में, जनाब मार्च में बिना स्क्रीनिंग के भारत में कैसे आ गए? क्या भारत सरकार झूठ बोल रही थी? फिर तो इनके जैसे हज़ारों कोरोना पॉज़िटिव लोग भारत मे घुसे होंगे। https://t.co/6OqIgoLIps

— Puneet Sharma (@PuneetVuneet) March 31, 2020
Those calling for arrest of #TablighiJamat must also call for the arrest of Kanika Kapoor, her VIP hosts, all Madhya Pradesh MLAs holding meetings when #COVID outbreak reported. Also of 700 MPs of both houses who attended Parl when there shd've been social distancing #Lockdown21

— Sagarika Ghose (@sagarikaghose) March 31, 2020
While on the other hand side, another sect of media and the other religious community too raised valid questions and held the organizers accountable but most of them also propagated the 'Jihadi' term setting up for further polarization of the society in the coming times.
Why did the Maulana of this Markaz at Nizamuddin ridicule the threat of the corona virus? An irresponsible act has endangered the lives of 1000s across India. The contact tracing is a nightmare exercise now spread across 5 states and 1 Union Territory. #CoronavirusOutbreakindia https://t.co/AXkfNRuBaP

— Marya Shakil (@maryashakil) March 31, 2020
Chronology:
1. Patna Mosque hideout – Muslim preachers stayed illegally. Similar incident repeated in Ranchi
2. Muslim techie in Bengaluru exhorts spreading Corona virus
3. Tablighi fiasco

Even now if you don't believe in #CoronaJihad you are a part of the network!

— Shubhrastha (@Shubhrastha) April 1, 2020
हिंदुओं को खत्म करने की साजिश के साथ भारत आये हैं #तबलीगी_जमात के विदेशी मुसलमान..

दुनिया का सबसे खतरनाक समूह है #TablighiJamaat जो आतंकी समूहों को देता है मानव बम..#कोरोना_जिहाद ही फैलाया जा रहा भारत मे #NizamuddinMarkaj से.

– वसीम रिज़वी#CoronaJihaad #BanTabligiJamat pic.twitter.com/wHu0tEWUpH

— Sudarshan News (@SudarshanNewsTV) April 1, 2020