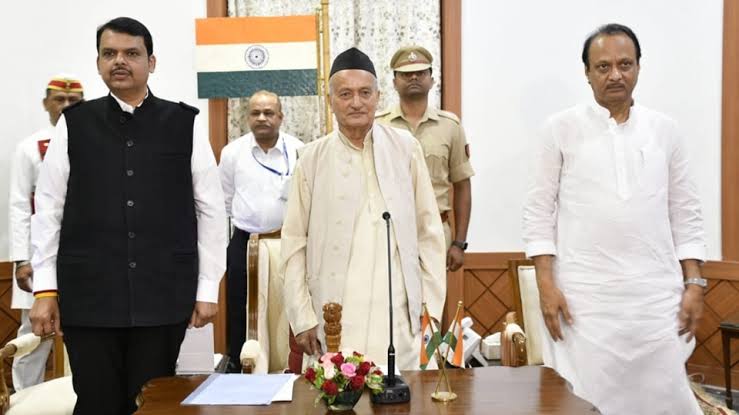 Twitter Reacts to Devendra Fadnavis Return as Maharashtra CM
Saurabh Kumar (Photo-Video) Lokesh Goswami Tennews New Delhi :
New Delhi : In an overnight coup, Bharatiya Janata Party (BJP) turned its tables on rivals with a faction of Nationalist Congress Party (NCP) breaking away under Sharad Pawar's nephew Ajit Pawar and forming government under the leadership of Devendra Fadnavis in the wee hours of Saturday morning.
The development has brought a major twist in the Maharashtra saga as a day earlier it was senior Pawar who announced that the new Maharashtra government would be led by Shiv Sena chief Uddhav Thackeray.
Now BJP leader Devendra Fadnavis is the new CM of Maharashtra while Ajit Pawar is the deputy CM. The twist that happened over night have witness surprise reactions and Twitter was left with one question – "What just happened?"
The newspaper become stale even before those arrived as they are having headings like Uddhav Thackeray to be the CM of Maharashtra. While on TV people watched Devendra Fadanvis taking oath as CM.
"Maharashtra needed a stable government, not a khichidi shashan (mishmash government)," Mr Fadnavis said after taking oath, adding that the Shiv Sena "did not follow people's mandate". "We were invited by the Governor to form government. I thank NCP and Ajit Pawar for supporting us," he added.
While NCP chief Sharad Pawar, who has called his nephew Ajit Pawar's move his "personal decision and not one endorsed by the party. Sharad Pawar reportedly phoned Mr Thackeray and said he was "unaware".
Sanjay Raut just hour after the development tweeted 'पाप के सौदागर!' (Merchant of Sin) .
Sharad Pawar's daughter Supriya Sule said, "We will make an official statement at 12:30 pm". Sharad Pawar has called all NCP MLA's for meeting at 4.30 pm today at YB Chavan Hall. When asked about the cabinet berth for Supriya Sule, she said, "We will clear at 12:30 pm."
PM Modi tweeted "Congratulations to @Dev_Fadnavis Ji and @AjitPawarSpeaks Ji on taking oath as the CM and Deputy CM of Maharashtra respectively. I am confident they will work diligently for the bright future of Maharashtra."
Amit Shah tweeted "श्री @Dev_Fadnavis जी को महाराष्ट्र के मुख्यमंत्री और श्री @AjitPawarSpeaks को प्रदेश के उपमुख्यमंत्री के रूप में शपथ लेने पर हार्दिक बधाई।
मुझे विश्वास है कि यह सरकार महाराष्ट्र के विकास और कल्याण के प्रति निरंतर कटिबद्ध रहेगी और प्रदेश में प्रगति के नये मापदंड स्थापित करेगी।"
Congress leader Sanjay Nirupam said, "People would be thinking I will be happy by today's developments, but I am actually very sad. Congress has been unnecessarily defamed in this and thinking of alliance with Shiv Sena was a mistake. I appeal to Sonia ji to at first dissolve Congress Working Committee."