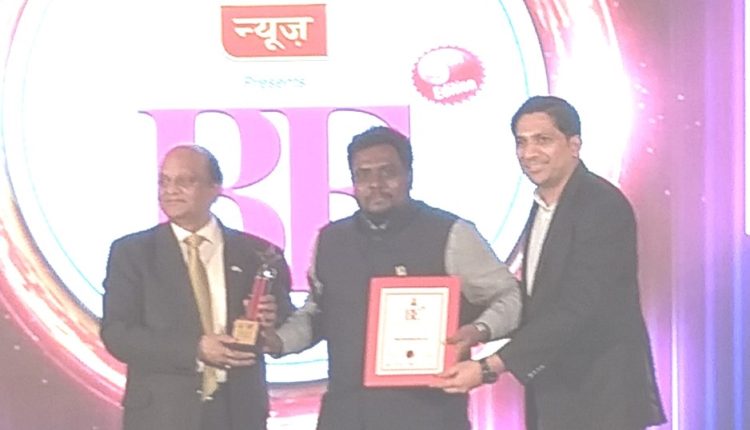 AWARD FOR BRAND EXCELLENCE IN HOSPITALITY SECTOR PRESENTED TO INDIA EXPOSITION MART LTD. BY ABP NEWS
Ten News Network
Greater Noida – 22ND  November, 2019 – India Exposition Mart Limited Greater Noida received an award for Brand Excellence in Hospitality Sector on 21st November 2019 at Taj Lands End Hotel, Mumbai  given by ABP News.
India Exposition Center and Mart Ltd. (IEML) was set up in 2006 as Private Public Partnership company.  The initiative was taken jointly by Export Promotion Council for Handicrafts (EPCH), Greater Noida Development Authority and stakeholders from the handicrafts and textiles sector.
The India Expo Centre & Mart is modern integrated and multi-purpose convention Centre.  Recently, Hon'ble Prime Minister of India has inaugurated the UN Convention to Combat Desertification in the month of September, 2019, which was attended by 196 countries.  Other important event such as Petrotech was also inaugurated by Hon'ble Prime Minister of India in March, 2019.  The center is host of several other national and international prestigious events such as ADB General Meeting, World Dental Congress, Renewal Energy India Expo etc. besides country's major largest exhibition are also being organized in this venue such as Auto Expo – the Motor Show, Elecrama, India Plast, CPHI, IHGF Delhi Fair, & India ITME, Printpack, SATTE  etc.
Shri Rakesh Kumar, Chairman – IEML informed that IEML has now started several verticals such as organization of own events on hospitality i.e. India Hospitality Expo, Academy on Trade Fair Management and also constructing hotel for the delegates.  Shri  Kumar, Chairman – IEML further elaborated that the center which is spread over in an area of about 58 acre land with 16 centrally air conditioned exhibitions halls, lounges, multi-cuisine restaurants and other support facilities besides the center has fully equipped with holding of large luminary sessions of more than 15000 persons with multi parallel sessions along with expo, lounges, multi-cuisine restaurants and other support facilities, is the  only center in India having three helipads for the movement of VVIPs and more than 3MW roof top solar system.  The GNIDA and Gautam Budh Nagar administration has supported the venue and projected the center as one of the USP in Noida and Greater Noida.
Shri Sudeep Sarcar, Chief Executive Officer-IEML  informed that the Centre will be holding  International Geological Congress in March, 2020, International Congress on Organ Transplant besides Elecrama, Auto Expo, and largest show on handicrafts i.e. IHGF Delhi Fair in next quarters.  IEML is playing a crucial role in India   economy in general and in UP in particular bringing valuable foreign exchange for the country through in bound business tourism