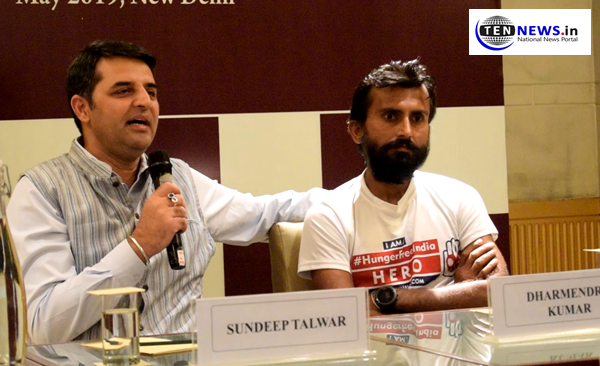 Ultra Marathon runner Dharmendra Kumar starts charity run for a 'Hunger Free India'
TALIB KHAN/ JITENDER PAL- TEN NEWS
New Delhi, (28/5/2019): Renowned ultra marathon runner Dharmendra Kumar is on a cross country charity run to promote the cause of "Hunger Free India" initiated by Akshya Patra Foundation. On his way back to Punjab, Dharmendra Kumar passed through Delhi on the eve of the World Hunger Day to engage with the supporters of The Akshaya Patra Foundation's cause.
As of today, Dharmendra Kumar has covered a distance of 2500 km on foot covering close to 75 km a day. He began his run from March 2019 from Sultanpur Lodhi in Punjab. Dharmendra has so far raised funds to feed 1 lakh meals and aims to feed 5 lakh meals to Akshaya Patra beneficiaries in 15,024 schools across 12 states in India.
While interacting with Ten News Dharmendra Kumar said, "I was surprised at the severity of the hunger crisis in India. With so many people unable to afford a square meal. I think this is one problem that needs immediate attention. Akshaya Patra is doing a good job serving food to children. Likewise Langar in Gurudwaras, I thought it would be an apt cause to associate with".
Sundeep Talwar, Chief Marketing Officer of Akshaya Patra while talking to Ten News said, "The Akshaya Patra foundation thanks Dharmendra Kumar for his support to the organization's vision of No child in India shall be deprived of education because of hunger. We are glad to associate with him to spread the word on hunger free India and encourage young and skilled individuals to support our cause".
The Akshaya Patra Foundation is a Non profit organization which strives to address classroom hunger and bring children to school by implementing the Mid day meal scheme in government and govt aided schools. Since 2000 the foundation has worked towards reaching more children with wholesome food on every single school day.
Akshaya Patra's mid day meal program is the world's largest school lunch program serving food to 1.76 million children from 15,024 schools across 12 states in India.