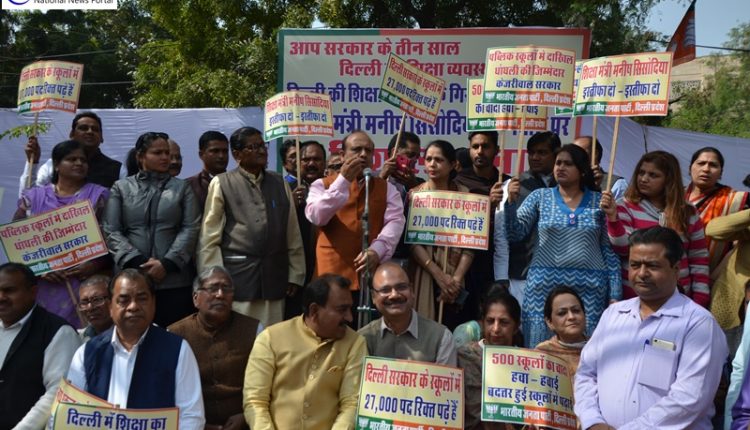 KASHIF HASNAIN (PHOTO/VIDEO BY SAURABH SHRIVASTAVA)
New Delhi: Disappointed with the declining Education graph and drastic education policies of the Aam Aadmi Party (AAP), BJP MLA and Leader of Opposition, Delhi, Vijender Gupta along with senior party leaders hold a protest in front of Deputy Chief Minister, Manish Sisodia's house on Saturday afternoon.

As many as 100 of BJP workers including women took part in the protest and raised slogans against the AAP government and Delhi Chief Minister Arvind Kejriwal and demanded resignation.
In last three years, AAP government has ruined the school education and higher education system. Their polices drastically hitting to the teachers, professors and parents, alleged BJP leaders during the protest.
"During AAP's regime, most of the student not only failed but also reported drop out. Around 1000 of schools have no principals. 27,000 seats are vacant," alleged BJP, MLA, Vijender Gupta.
On completing 3 years of AAP government in Delhi, BJP has issued a white paper in protest of bad governance and launched a week-long Jan Andolan to highlight the misgovernance of AAP government.